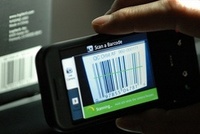 The price comparison functionality of ShopSavvy has been hugely successful, but it really only scratches the surface of what our application will ultimately be able to provide to users
Dallas, TX (Vocus) December 8, 2009
Big in Japan, developer of the breakthrough barcode-scanning app ShopSavvy for the iPhone and Android phones such as the Droid and Hero, voiced its support for the efforts of GS1 MobileCom to create global standards for Extended Packaging, which enables consumers to scan product barcodes to receive detailed product-related content, including ingredients, instructions for use, warranty information, money-saving coupons and other data.
"The price comparison functionality of ShopSavvy has been hugely successful, but it really only scratches the surface of what our application will ultimately be able to provide to users," said Alexander Muse, Big in Japan co-founder, who has met with the GS1 MobileCom Work Group to establish open, industry-wide standards for Extended Packaging.
"GS1 manages the most widely used supply chain standards system in the world, including the international standards for barcodes," Muse said. "GS1's leadership is paramount as we move toward Extended Packaging, and we intend for ShopSavvy to be among the first mobile applications to capitalize on its potential. We have been pleased to lend our experience to the GS1 MobileCom Work Group during this process."
Representatives of global brands and retailers including Nestlé, Kraft, L'Oréal, Coca-Cola, Walmart, Metro and Carrefour met in Paris last month to discuss expanding the use of Extended Packaging in 2010. The group concluded that finding a way to link standard GS1 barcodes with trusted data about products is the group's most immediate priority.
Said Vanderlei Roque dos Santos, a Nestlé executive and co-chair of the GS1 MobileCom group: "Extended Packaging is a reality for consumers. It's our job to make sure the services we offer reach the widest audience. That's only possible with the right standards in place."
GS1 is a global standards organization with 108 member organizations representing 150 countries. GS1 MobileCom is an industry-wide initiative to enable businesses to give consumers access to product information via their mobile phones. The objective is to provide a simple way for consumers and businesses to interact based on an open infrastructure and open standards.
ShopSavvy, one of the most popular apps on Android phones, became available on the iPhone in November. The application enables users to comparison shop on the go for more than 20 million products at more than 20,000 retailers worldwide, simply by scanning the product's barcode using the phone's built-in camera. Using the barcode information, ShopSavvy searches the Web for the best prices on the product, displaying the lowest prices online as well as at nearby brick-and-mortar retailers. ShopSavvy looks up product reviews to further assist with purchase decisions. According to Apple, ShopSavvy is now the most popular barcode scanning application in the iTunes App Store.
Mobile users may download ShopSavvy at one of the following links:
ShopSavvy for iPhone: http://bit.ly/shopsavvyiphone
ShopSavvy for Android: http://bit.ly/shopsavvyandroid
About Big in Japan:
Big in Japan Inc. is a Dallas-based idea factory for mobile applications, building software for Google's Android, Apple's iPhone, Windows Mobile and other platforms and devices. Big in Japan's ShopSavvy application — a personal shopping assistant — is one of the most popular applications on Android-powered mobile phones. Big In Japan was one of the original winners of the Google Android Challenge in September 2008 for its development of ShopSavvy. The application won a 2009 Netexplorateur of the Year award at the French Senate in Paris and was recently named Under the Radar's Best App of 2009. Big in Japan was a finalist for the international MobileMonday Mobile Peer Awards as well as the 2008 Crunchies. For more information, visit http://www.biggu.com .
Contact:
Cathy Baradell
972-235-3439
###