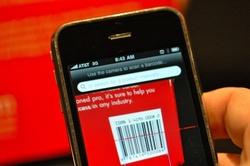 Many iPhone users have told us they'd like more guidance in using ShopSavvy to ensure they are scanning products correctly. That has been the focus of enhancements in ShopSavvy 1.1
Dallas, TX (Vocus) December 17, 2009
Big in Japan, a Dallas-based idea factory for mobile applications, announced that ShopSavvy 1.1 for iPhone is now available for free download at Apple's iTunes Store. The new and improved version of ShopSavvy –- already one of the most downloaded barcode-scanning apps for the iPhone -- features a number of enhancements based on feedback from iPhone users.
Ranking as one of the most popular apps on Android phones since its launch in September 2008, ShopSavvy became available on the iPhone on November 17, 2009. In less than a month, hundreds of thousands of iPhone users have downloaded the application, joining millions of ShopSavvy users on Android phones such as the Hero and Droid. More than 1 million ShopSavvy users scanned more than 18 million products on Black Friday weekend alone (Nov. 27-29).
"Many iPhone users have told us they'd like more guidance in using ShopSavvy to ensure they are scanning products correctly. That has been the focus of enhancements in ShopSavvy 1.1," said Alexander Muse, co-founder of Big in Japan. "We will unveil a number of improvements in the app's core scanning technology in ShopSavvy 1.2, which should become available in the next few weeks."
Enhancements in ShopSavvy 1.1 for iPhone include:

on-screen indicators that confirm a scan is being performed;
a progress bar to show how close a scan is to completion;
an on-screen tutorial teaching users how to scan; and
international localization for users in Canada and Europe.
ShopSavvy enables users to comparison shop on the go for more than 20 million products at more than 20,000 retailers worldwide, simply by scanning the product's barcode using the phone's built-in camera. Using the barcode information, ShopSavvy searches the Web for the best prices on the product, displaying the lowest prices online as well as at nearby brick-and-mortar retailers. ShopSavvy looks up product reviews to further assist with purchase decisions.
Mobile users may download ShopSavvy at one of the following links:
ShopSavvy for iPhone: http://bit.ly/shopsavvyiphone
ShopSavvy for Android: http://bit.ly/shopsavvyandroid
About Big in Japan
Big in Japan Inc. is a Dallas-based idea factory for mobile applications, building software for Google's Android, Apple's iPhone, Windows Mobile and other platforms and devices. Big in Japan's ShopSavvy application — a personal shopping assistant — is one of the most popular applications on Android-powered mobile phones. Big in Japan was one of the original winners of the Google Android Challenge in September 2008 for its development of ShopSavvy. The application won a 2009 Netexplorateur of the Year award at the French Senate in Paris and was recently named Under the Radar's Best App of 2009. Big in Japan was a finalist for the international MobileMonday Mobile Peer Awards as well as the 2008 Crunchies. For more information, visit http://www.biggu.com.
Contact:
Cathy Baradell
(972) 235-3439
###