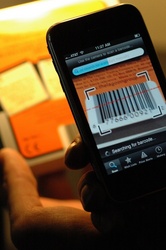 This event is a wonderful showcase for the best and brightest young companies, and the caliber of competition this year was outstanding
Austin (Vocus) March 19, 2010
Big in Japan, a Dallas-based idea factory for mobile applications, announced that ShopSavvy, the breakthrough comparison shopping app, was named the winner in the Entertainment Technology category at the Microsoft BizSpark Accelerator at SXSW Interactive 2010 event. The two-day event is an annual competition where startups pitch their businesses to a panel of judges, including venture capitalists, entrepreneurs and industry experts, in front of a live audience.
Of more than 200 applicants, 32 semi-finalists in four categories were invited to Austin for a chance to demo their product or service – and get grilled by the event's judges. Judges included Tim Chang, Norwest Venture Partners; Chi-Hua Chien, Kleiner Perkins Caufield & Byers; Paul Graham, Y Combinator; Guy Kawasaki, Alltop; and Robert Scoble, Rackspace and Scobleizer. Big in Japan beat out two other startups, PocketTales and BandCentral, in the final round of the competition on Tuesday.
"This event is a wonderful showcase for the best and brightest young companies, and the caliber of competition this year was outstanding," said Alexander Muse, co-founder of Big in Japan. "We're proud to come out on top in an event with previous winners like Twitter and Ribbit."
"We were thrilled with the quality of submissions we received for the second annual Microsoft BizSpark Accelerator at SXSW," said event coordinator Chris Valentine. "We're confident that we've chosen a strong group of winners."
Ranking as one of the most popular apps on Android phones since its launch in September 2008, Big in Japan's ShopSavvy app became available on the iPhone in November 2009. ShopSavvy enables users to comparison shop on the go for more than 20 million products at more than 20,000 retailers worldwide, simply by scanning the product's barcode using the phone's built-in camera. Using the barcode information, ShopSavvy searches the Web for the best prices on the product, displaying the lowest prices online as well as at nearby brick-and-mortar retailers. ShopSavvy looks up product reviews to further assist with purchase decisions.
About Big in Japan
Big in Japan Inc. is a Dallas-based idea factory for mobile applications, building software for Google's Android, Apple's iPhone, Windows Mobile and other platforms and devices. Big in Japan's ShopSavvy application — a personal shopping assistant — is one of the most popular applications on the iPhone and Android-based phones. Big in Japan is incubated by Architel, the Dallas managed services provider. For more information, visit http://www.biggu.com.
###