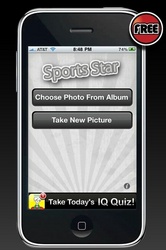 Dallas, TX (Vocus) September 29, 2009
Big in Japan, a Dallas-based idea factory for mobile applications, today announced that its new app, SportsStar , is available for free download at the Apple iTunes App Store.
Created by the Big in Japan developer and designer team of James Paolantonio and Michelle Holsworth, SportsStar enables the little athletes in your family to envision their big-league dreams, as you place their image front and center on sports-themed trading card templates. Your kids will have fun trading their pictures with friends and teammates -- and the rest of the family will treasure them.
SportsStar lets you:

use photos already on your iPhone or take new ones;
choose from four design templates featuring the most popular youth sports: baseball, basketball, football and soccer;
add your child's name and team name to each card;
instantly e-mail your cards to friends and family, or save them to your iPhone's camera roll.
James Paolantonio has consulted for imc2, MedPage Today and Pizza Hut and has developed a number of popular iPhone applications. Michelle Holsworth is a veteran graphic artist and art director serving clients in the Dallas-Fort Worth area for the past 12 years.
To download SportsStar, visit the Big in Japan Web site at http://www.biggu.com/apps/sportsstar-iphone.
About Big in Japan
Big in Japan Inc. is a Dallas-based idea factory for mobile applications, building software for Google's Android, Apple's iPhone, Windows Mobile and other platforms and devices. Big in Japan's ShopSavvy application -- a personal shopping assistant -- is one of the most popular applications on Android-powered mobile phones. For more information, visit http://www.biggu.com.
# # #