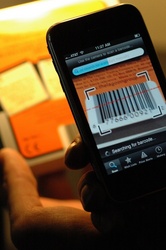 Dallas (Vocus) March 14, 2010
Big in Japan, a Dallas-based idea factory for mobile applications, is dispatching team members to SXSW Interactive this weekend to lead workshops, participate in panel sessions, and present ShopSavvy at the 2010 Microsoft BizSpark Accelerator competition.
Big in Japan was selected from nearly 200 applicants as a finalist in the second annual Microsoft BizSpark Accelerator at SXSW event, where companies showcase Web-based products and services. Alexander Muse, co-founder of Big in Japan, will present ShopSavvy, the comparison shopping app with millions of users worldwide, at the event on Monday, March 15, at 5 p.m in Hilton G, Hilton Hotel.
Rylan Barnes, Big in Japan co-founder, will be one of three speakers at the 2010 T3 SXSWi Workshop, "Mobile Development Across Platforms," which begins on Monday, March 15, at 9:30 a.m. in Ballroom F, Austin Convention Center. Barnes will lead a session titled "Porting Your App the Right Way;" other sessions in the workshop include "Best Practices for Contextual Applications" and "How Pandora Navigated the Smartphone Seas."
"With mobile apps a dime a dozen these days, it's easy to want to rush the process of bringing your application to a new platform," Barnes said. "My session will address the ups and downs of taking a single-platform mobile app and making it cross-platform. We will also discuss how, with some simple tips and tricks, you can make sure that the new version of your app is not just a port, but something that can stand on its own as a great application."
Jake Marsh, lead iPhone developer for Big in Japan, will answer the question "Is App-vertising the Answer?" at a panel discussion on Saturday, March 13, at 12:30 p.m. in Hilton D, Hilton Hotel. "App-vertising" is a new name for a mix of branded mobile applications and in-application advertising. Marsh will discuss how we are still scratching the surface of what mobile marketing can deliver for brands and consumers.
Ranking as one of the most popular apps on Android phones since its launch in September 2008, Big in Japan's breakthrough ShopSavvy app became available on the iPhone in November 2009. ShopSavvy enables users to comparison shop on the go for more than 20 million products at more than 20,000 retailers worldwide, simply by scanning the product's barcode using the phone's built-in camera. Using the barcode information, ShopSavvy searches the Web for the best prices on the product, displaying the lowest prices online as well as at nearby brick-and-mortar retailers. ShopSavvy looks up product reviews to further assist with purchase decisions.
About Big in Japan
Big in Japan Inc. is a Dallas-based idea factory for mobile applications, building software for Google's Android, Apple's iPhone, Windows Mobile and other platforms and devices. Big in Japan's ShopSavvy application — a personal shopping assistant — is one of the most popular applications on the iPhone and Android-based phones. For more information, visit http://www.biggu.com.
Contact:
Cathy Baradell
(972) 235-3439
# # #