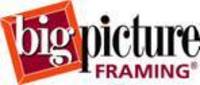 Our goal is to make the custom framing experience as clear, simple and pleasurable as possible
Needham, MA (Vocus) February 6, 2009
Despite a weakening economy, one local company is bucking retail trends. Big Picture Framing recently expanded to twelve locations by acquiring three new locations from the now defunct Corners, Inc. in Newton, Stoneham and Shrewsbury, MA, making them the largest framer in New England.
While many businesses are tightening their belts and others struggling to survive, co-owners Bob Clayton and Barry Stahl say their analytical approach to running the business since founding the company and opening its first store in Needham in 2000, has allowed them to grow in an industry on shaky ground.
"We don't listen to trends," Stahl said. "When it comes to operations, we do our homework and run the numbers."
Persistence pays off too. Earlier this year, Stahl and Clayton approached Frame Picture Enterprises, the largest framer in the U.S. and owner of the Corners locations, with the intent of buying 19 of its stores in the Northeast. Although the deal fell through, Clayton and Stahl went back to the negotiating table when Corners began liquidating its business later in the year. Taking over the stores had a David vs. Goliath charm. Not only was the upstart Big Picture Framing able to take over stores from the largest framing corporation in the country, they were able to outlast their former employer. Both Stahl and Clayton were former executives with Corners, Inc.
While business savvy has launched the company as a regional leader in the industry, Stahl and Clayton credit the vision of Big Picture Framing for its success in tough economic times.
"Our goal is to make the custom framing experience as clear, simple and pleasurable as possible," said Clayton. "Our customers deserve quick, quality service that results in a beautifully designed product at an affordable price. That's what we give them; guaranteed."
Big Picture Framing is a group of full-service custom framing stores with 12 locations that offer the highest quality design at discounted prices everyday. All Big Picture Framing locations feature expert staffs, high quality materials and low prices. All work is done on site and all projects carry a lifetime guarantee. For more information about Big Picture Framing, to learn about franchise opportunities or find a location near you, visit http://www.bigpictureframing.com or call 1-800-315-0024.
Contacts:
Gayle Nowak, (978) 525-3742
Mary Ingram-Schatz, (212) 600-4469
# # #