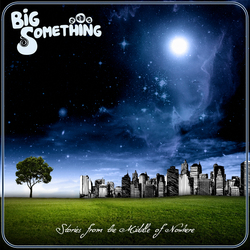 one savory package, well delivered in execution
Burlington, NC (Vocus) July 1, 2010
The Anonymous Band has become a BIG Something. With a new name and new direction, Big Something "offers a remarkable debut album," says Evan Wade of Leeway's Homegrown Music Network.
"Stories from the Middle of Nowhere" was recorded and mixed in Raleigh by distinguished NC producer John Custer, who was previously Grammy-nominated for his work with the southern Metal band, Corrosion of Conformity.
While the Big Something is far from a Metal band, their groove-based Rock n Roll sound is still very large. But as the name suggests, this band is hard to classify. With a uniquely alternative and electronic sound, Funk, Soul and Rock n Roll are all fused into "one savory package, well delivered in execution," says Wade on behalf of HGMN. "In employing robust rhythms, technically-polished playing, and a sense of flair that is fun and disarming, Big Something's debut release proves to be excellent."
According to the bands bass player, Doug Marshall, "recording with Custer was like getting schooled by a musical Jedi. He helped us realize our true potential as a band. And because making this album felt and sounded so dramatically different than anything else we've ever recorded, we knew it was time to re-think our band name."
BIG Something will perform several concerts throughout the summer in support of the new album including a CD release show at the Pour House in Raleigh on July 15th, a three night run July 26 - 28 at the Southbound in Knoxville TN, and a marquee Saturday night set at The Getdown Music Festival on Labor Day Weekend. One of the album's new tracks A Simple Vision will also be featured on the CD sampler inside this July's issue of Relix Magazine.
Copies of Stories from the Middle of Nowhere can be purchased from the band's website bigsomething.net where you can also stream the songs for free, check out tour dates, download live shows, read song lyrics and watch videos. The album is also available on iTunes, HomegrownMusic.net, Amazon.com, CDbaby.com, and many fine independent retailers throughout North Carolina, Virginia and Maryland. For more info check out http://www.bigsomething.net
###