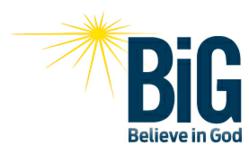 BiG is proud to be associated with AAFES and support our troops and their families. The common belief in God is the backbone of our great country. According to Ted Hellen, CEO BiG Corporation
Aurora, CO (PRWEB) October 11, 2011
The essence of life: To believe in God is the fabric that binds humanity together. It's a core belief that is accepted by billions of people throughout the world. In fact, over 90% of the world's population believe in God, no matter what religion they practice, if any.. This belief is the foundation of the new apparel brand BiG, Believe in God®.
The BiG, Believe in God® apparel designs are positive and inspirational while embracing important values. The BiG Crayon Kidz designs for infant and toddler apparel focuses on key words; Love, Family, Friendship and Happiness. By blending core values with attractive designs, the Crayon Kidz line of apparel has been very successful. Initially, BiG is focusing on the infant and toddler apparel markets before growing vertically into kids, teens, men's and ladies markets.
"BiG is proud to be associated with AAFES and support our troops and their families. The common belief in God is the backbone of our great country." according to Ted Hellen, CEO BiG Corporation
AAFES is a joint military activity providing quality merchandise and services to active duty, Guard and Reserve members, military retirees and their families at competitively low prices. The Exchange is now in its 116th year of operation. The Exchange is a multi-channel retailer, offering products to authorized customers via retail stores, catalog, online and mobile shopping. Patrons can enjoy Exchange benefits in many ways, with the greatest value being the Exchange pledge "We go where you go," serving troops worldwide.
BiG Corporation is also establishing relationships with major retailers across the country as part of our nationwide brand introduction. BiG products are featured in the Baby section of Sears.com and KMart.com plus in a growing list of other prominent retail outlets- both in store and online.
About BiG Corporation
Incorporated in Colorado, B.I.G. Corporation (BiG) owns the registered trademarks for the apparel brand name, BiG, Believe in God® in 30 countries; the United States, Canada, Mexico and 27 countries in Europe. Additionally, BiG owns the registered trademark for our Sun symbol in the United States. The Sun symbol is incorporated into all of our designs, as well as displayed as a standalone design, similar to the Nike swoosh, for those who prefer a more subtle representation.
For more information please visit our web site at http://www.believeingod.org.
###