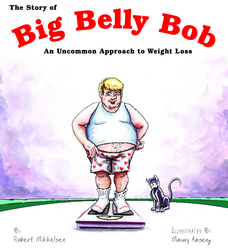 Most people can lose weight dieting
San Diego, CA (PRWEB) March 15, 2009
Weight loss is a never ending challenge. While most weight loss products focus on eating habits, exercise or understanding one's emotions, the fact is it is not working! A market saturated with the latest and greatest fads preying on the hopes and fears of the overweight, there comes along a man, a common man, named Big Belly Bob who is on a mission to get the truth out to people about weight control.
For weeks rumors circulated around the whereabouts of Big Belly Bob as he travels the globe spreading his message. Whether it is in a coffee shop or railway station, you can be sure to find Big Belly Bob speaking his mind.
SoutherLee Publishing, a division of SoutherLee, Inc., released Big Belly Bob's book in February 2009. In a delicately illustrated collection, Big Belly Bob goes against conventional wisdom by exploring the tactical elements of the highly complex topic of weight control. Identifying sustainability as the core issue, Big Belly Bob uncovers an intuitive approach using passive mechanisms to emotionally release people from guilt. The story is positive and uplifting, yet contains a powerful message to help people restart a new lifestyle every day.
"Most people can lose weight dieting," states Big Belly Bob, "but unfortunately 95% of us will gain the weight back. Simplifying the process by creating a repeatable first step is fundamental to sustaining weight loss and living a healthy life."
"I saw Big Belly Bob at the wheat grass station in Munich and I couldn't believe it was him," says bystander Andreas Schmidt, "I went up to him and thanked him over and over."
ISBN-13 978-1-42760-014-1
Author: Robert Mikkelsen
http://www.BigBellyBob.com
SoutherLee Publishing, A Division of SoutherLee, Inc.
PO Box 711333
San Diego, CA 92171
Ph: 619.822.2168
Disclaimer: All characters, names, locations, and situations are fictional. Any resemblance to persons living or dead is purely coincidental and unintentional.
###