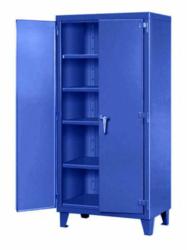 Buy all The Storage Cabinets you want , we'll make more
Boston, MA (PRWEB) January 04, 2013
A Plus Warehouse is the supplier of the famous BigBlue line of storage cabinets. A Plus Warehouse has been selling the Big blue storage cabinet line for several years. BigBlue storage cabinets are made with rugged 14 Gauge steel which is great for the vast majority of industrial customers. Some customers need to store one ton per shelf , and that is above the capacity of the line. A Plus Warehouse marketing people are always thinking about how to broaden A Plus Warehouse's already great offering. The executive committee came up with the concept of making an extra heavy duty bigblue storage cabinet from 12 Gauge metal.
According to Ed Stairman, "Buy all the Storage Cabinets you need , we'll make more" . These specialty storage cabinets are made to A Plus Warehouse's exacting specifications right in the heartland of USA. It is also worth noting that A Plus Warehouse's lean manufacturing process minimizes costs.
Since BigBlue cabinets are all made to order , and painting is on an automated line , and given cabinet can have more than one color. A typical configuration is dark blue with red accents.
Customers have grown to trust A Plus Warehouse for storage cabinets, but customers should realize that A Plus Warehouse is a broad line materials handling equipment dealer as well. This means that A Plus Warehouse can be a one stop shop offering Lockers, Work Benches, Conveyors and hoisting equipment as well as storage cabinets. Customers have been experience A Plus service under original ownership since early 1996.
A Plus Warehouse brings great value to the market with an outstanding product offering matched with a great staff. Call A Plus Warehouse at 800-209-8798 and experience the A Plus Warehouse difference.
A Plus Warehouse wishes all customers a happy new year.