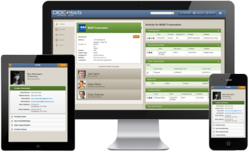 Thanks to the invaluable insights of everyday users, we're confident that this new platform will become THE web based CRM Software of choice for small businesses.
Duluth, GA (PRWEB) June 27, 2013
BigContacts, the leading provider of small business web based CRM software, continues the enthusiasm stemming from the launch of BigContacts 2.0, by announcing two of the new highlighted features within this platform.
BigContacts 2.0 offers an entire suite of tools to help small businesses work smarter and get more done. Each feature serves an important role in assisting with client retention and prospect conversions. Of the many new and exciting features offered within BigContacts 2.0, highlighted today are the group calendar additions and the tasks and to-do functionality.
BigContacts 2.0 includes a full featured group calendar that makes it easy to track meetings and events for everyone on a team. Calendars serve an important purpose in keeping business organized, tracking prospect meetings, conversations and outreach.
The functionality within the calendar includes a view from a day, week or month. Each view allows the user to see their meetings, tasks, to-dos, and more. This powerful feature allows for a truly customizable view of a calendar for one individual and the whole team they work with. The menu allows a view of the user's calendar, a team member's calendar, or several team members all at once.
BigContacts 2.0 also includes the ability to track tasks and to-dos in an easily accessible way, ensuring that nothing falls through the cracks. Tasks and to-do lists are crucial for the success of customer outreach and prospect grooming in the sales cycle. Staying organized and reaching out to all customers in a timely fashion can make or break a company's retention rate.
The tasks and to-dos can be seen in the view of a day, week or month. Recurring tasks can be completely customized based on the length, frequency and timing needed. Tasks and to-dos can also be viewed in a folder. The "Tasks & To-Dos" folder allows the user to see each task assigned to them, the date it is due, tasks that have been completed, priority of the different items, and anything that happens to be overdue.
Bob Walton, founder and CEO of BigContacts, discusses his passion for their software solution, "Over the past six years, my company has had the opportunity to assist over 10,000 small businesses in implementing CRM software and we have received an incredible amount of feedback from real users in the process. We studied all this input and decided to invest the last 18 months of our lives building our next generation web based CRM software." Walton continues, "Thanks to the invaluable insights of everyday users, we're confident that this new platform will become THE web based CRM Software of choice for small businesses."
Bob uses his 20 years of business experience to help small businesses better evaluate how they are managing the customer lifecycle today and then shows them how they can leverage CRM technology to get a handle on the entire customer experience.
For more information about BigContacts, please visit http://www.bigcontacts.com or call 1-888-286-6578.
About BigContacts:
BigContacts is a software company that was founded in 2006 with a singular focus on delivering cost-effective and user-friendly CRM Software to help small businesses manage their prospect and customer relationships.
BigContacts is now a leading web based CRM (Customer Relationship Management) software solution designed for small businesses that have outgrown basic solutions like Outlook, Excel or ACT but don't want the cost and complexity of CRM solutions like Salesforce.