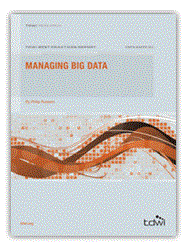 This report brings readers up to date so they can make intelligent decisions about which tools, techniques, and team structures to apply to their next-generation solutions for big data management.
Seattle, WA (PRWEB) October 01, 2013
TDWI Research announced the release of its newest Best Practices Report, Managing Big Data. This original, survey-based research focuses on how organizations can go beyond just accumulating and reporting on big data to fully leveraging this asset and reap the benefits of improved recognition of sales and market opportunities and more accurate business insights.
"This report accelerates users' understanding of the many options that are available for big data management, including old, new, and upcoming options. The report brings readers up to date so they can make intelligent decisions about which tools, techniques, and team structures to apply to their next-generation solutions for big data management," Philip Russom, author of the report, explains. "By extending their data management skills and their portfolios of data management software, organizations can automate more business processes, operate closer to real time, and (through analytics) learn valuable new facts about their own operations, their customers, and their partners."

The report discusses barriers to big data management (such as inadequate staffing, lack of governance or stewardship, and lack of business sponsorship) as well as what big data management solutions enterprises have adopted and what they plan to adopt in the next three years.
As this report points out, organizations are adjusting their technical best practices to accommodate big data. They are retraining existing personnel, augmenting teams with consultants, and hiring new personnel, with a focus on data analysts, data scientists, and data architects.
About the Report:
This report is designed to accelerate users' understanding of how organizations are currently managing big data successfully, discusses the different types of data used and managed, and explores future trends in the technologies users are interested in and to which they are committed. The report includes real-world use cases to demonstrate how organizations are enjoying the benefits of visual discovery, from rapidly growing their business to improving insights and enhancing collaboration.
Report Highlights:

Use: A quarter of surveyed organizations have scaled up existing applications and databases to handle increased data volumes; another quarter has acquired new data management platforms purpose-built for managing and analyzing multi-structured big data. The report also looks at the most compelling reasons organizations said drove them to manage their big data.
Technology: The survey explores which tools organizations have most aggressively adopted or plan to adopt in the next three years, including the Hadoop Distributed File System (HDFS), NoSQL databases, in-memory databases, private clouds, and in-database analytics.
Data sources: For a quarter of organizations, big data is mostly relational and structured data from traditional applications. However, nearly a third of organizations report managing big data from an eclectic mix of new sources, including Web servers, streaming data from sensors, and human language text such as social media.
Job Titles and Team Structures: TDWI Research reveals the diversity of the types of people who manage and use big data, from data architectures and analysts to applications specialists and domain experts. The report found no single team structure common among survey respondents.
Tips for Today with An Eye on the Future: The report includes tips form managing big data for analytics today, a list of the top 10 priorities for big data management, and where vendor platforms and tools are headed.
This research was sponsored by Cloudera, Dell Software, Oracle, Pentaho, SAP, and SAS.
About the Author
Philip Russom is a well-known figure in data warehousing and business intelligence, having published more than 500 research reports, magazine articles, opinion columns, speeches, webinars, and more. Today, he's the TDWI Research Director for Data Management at The Data Warehousing Institute (TDWI), where he oversees many of the company's research-oriented publications, services, and events. Before joining TDWI in 2005, Russom was an industry analyst covering BI at Forrester Research and Giga Information Group. He also ran his own business as an independent industry analyst and BI consultant and was a contributing editor with leading IT magazines. Before that, Russom worked in technical and marketing positions for various database vendors. You can reach him at prussom(at)tdw(dot)org, @prussom on Twitter, and on LinkedIn at linkedin.com/in/philiprussom.
About TDWI
TDWI, a division of 1105 Media, Inc., is the premier provider of in-depth, high-quality education and research in the business intelligence and data warehousing industry. TDWI is dedicated to educating business and information technology professionals about the best practices, strategies, techniques, and tools required to successfully design, build, maintain, and enhance business intelligence and data warehousing solutions. TDWI also fosters the advancement of business intelligence and data warehousing research and contributes to knowledge transfer and the professional development of its members. TDWI offers a worldwide membership program, five major educational conferences, topical educational seminars, role-based training, on-site courses, certification, solution provider partnerships, an awards program for best practices, live webinars, resourceful publications, and an in-depth research program. For more information, visit tdwi.org or follow us on Twitter @TDWI.
About 1105 Media
1105 Media, Inc., is a leading provider of integrated information and media in targeted business-to-business markets, including specialized sectors of the information technology community; industrial health, safety, and compliance; security; environmental protection; and home healthcare. 1105's offerings span print and online magazines, journals, and newsletters; seminars, conferences, and trade shows; training courseware; and Web-based services. 1105 Media is based in Chatsworth, CA, with offices throughout the United States.
###
Media Contact:
Jennifer Agee, TDWI
jagee(at)tdwi(dot)org | 425.277.9239