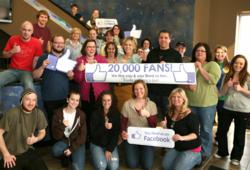 We know every Hostess Hero is busy so we want to be able to reach them at the Web sites they are already using.
~ Jill Spaak-Fenn, Customer Service and Social Media Manager
Menomonie, WI (PRWEB) March 08, 2012
Participating in popular social media sites, such as Facebook, BigDotOfHappiness.com is able to connect with customers and create a loyal following. With more than 20,000 Facebook fans, Big Dot of Happiness has achieved a premier status among experienced party planners and trendy Hostess Heroes. Whether you're looking for birthday party supplies for kids or unique party themes, Big Dot Of Happiness has it all. After "Liking" the Big Dot of Happiness Facebook page, party planners can view photos of real events, be the first to know about Big Dot's secret Silly Sales and have access to coupons exclusively for Facebook fans.
"We know every Hostess Hero is busy so we want to be able to reach them at the Web sites they are already using," says Jill Spaak-Fenn, Big Dot of Happiness' customer service and social media manager. "Facebook is where everyone gathers so it is perfect for us to help connect customers who have already hosted an amazing celebration with those who are still in the planning phase."
With more than 20,000 fans and a dedication to making Hostess Heroes out of every customer, Big Dot of Happiness' Facebook page boasts a wide variety of customer-submitted photos, creating a place to inspire every party planner. Each Hostess Hero is encouraged to share their tips, tricks and creative uses of Big Dot product on the Facebook wall after their event, compiling an impressive collection of party inspiration for baby showers and birthday parties.
BigDotOfHappiness.com has also expanded their connection with Hostess Heroes to other social sites such as an inspiration blog, YouTube, Pinterest and Twitter. Hostess Heroes can subscribe to the Big Dot blog for daily entries featuring party decoration tutorials, tips, tricks and free printables. The Big Dot of Happiness YouTube channel focuses on DIY video guides, photo slideshows and the Big Dot mascots, Marti & Stuart, while Pinterest gathers party inspiration from Hostess Heroes everywhere into one easily accessible place.
"We make life's occasions fun," says Spaak-Fenn. "By giving our customers everything they need in the social sites they already use, planning any event is just as much fun as attending. That's what makes everyone a Hostess Hero."
About Big Dot of Happiness, LLC
Big Dot of Happiness, LLC, is an event party company and the originator of various games, invitations and themed party supply products called "Big Dot Originals." With personalized party invitations, impressive party favors and unique party decorations, Big Dot of Happiness, LLC, makes everyday parties into extraordinary events. Making life's occasions fun. It's about time. "We create remarkable smiles by embracing a remarkable culture."
Contact:
PR Coordinator
Big Dot of Happiness, LLC
1.800.274.4282
http://www.bigdotofhappiness.com
# # #