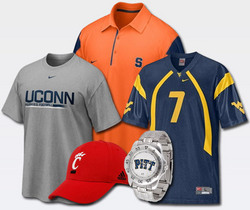 Choosing TeamFanShop to power our official online store helps us to continue to achieve our goal of positioning to maximize new opportunities in the world of new media and technology
Jacksonville, FL (Vocus) September 8, 2010
TeamFanShop, a division of Football Fanatics, is proud to announce a partnership with The BIG EAST Conference to power their official online store, accessible through bigeast.teamfanshop.com. With 16 member institutions, The BIG EAST Conference is the nation's largest Division I-A conference and the 12th conference to partner with TeamFanShop.
"Choosing TeamFanShop to power our official online store helps us to continue to achieve our goal of positioning to maximize new opportunities in the world of new media and technology," said BIG EAST Commissioner John Marinatto. "Our fans will find that our TeamFanShop online store brings best-in-class online infrastructure, a seamless user experience, outstanding customer service and an unprecedented amount of officially licensed products. We are thrilled with this new partnership."
The new BIG EAST online shop features over 4,500 officially licensed products (all backed by an Unconditional Satisfaction Guarantee), flat rate shipping for only $4.99, and a 1-year return policy - complete with a promise of no hassles.
"It's an honor to be partnering with the BIG EAST Conference and to be trusted with their standards of excellence," remarked Brian Swallow, Vice President of Sales and Marketing for TeamFanShop. "We are confident we will provide the fans the level of service, selection of quality merchandise and industry leading policies they would expect in association with the BIG EAST Conference brand."
About TeamFanShop:
Founded in 1995, TeamFanShop is a leading provider of private label e-commerce solutions for Division I colleges and professional sports teams. Their dedicated solutions power the official e-commerce sites for some of the biggest names in sports and sports media. Partners include the Oklahoma Sooners, Georgia Bulldogs, Florida Gators, Jacksonville Jaguars, Tampa Bay Buccaneers, New York Giants, Texas Tech Red Raiders, Philadelphia 76ers, The Southeastern Conference, The Atlantic Coast Conference, CBS Sports and Denver Broncos, among many others. TeamFanShop combines best-of-breed, turnkey e-commerce hosting website development with highly efficient order fulfillment, secure shopping cart solutions, and customer relationship management services to help partners fully monetize their official websites.
###