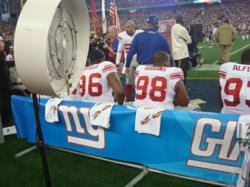 New Orleans, LA (PRWEB) February 03, 2013
Once again the National Football League has hired Big Fogg, Inc. to supply its High-Pressure Misting Fans to both the Baltimore Ravens and the San Francisco 49ers at Super Bowl XLVII in New Orleans on February 3rd, 2013.
Big Fogg, headquartered in Temecula, CA with offices in Jacksonville, FL and Austin, Texas will send its technicians to the Super Bowl to set-up and monitor its Misting Fans and remove them after the game. This marks the ninth time in the last eleven years that Big Fogg has setup its Misting Fans at the Super Bowl.
The 2013 NFL Playoff season has been a very busy one for Big Fogg, as it supplied Misting Fans and Heating Benches at 10 of the 12 playoff games, as well as the Pro Bowl in Hawaii last weekend. Big Fogg setup 12 heating benches at the AFC Championship game in New England and setup Misting Fans at the NFC Championship game in Atlanta. During the 2012-2013 football season, Big Fogg technicians setup its equipment at over 200 games, including the NCAA Championship Game between Alabama and Notre Dame. At the Rose Bowl, Big Fogg setup both Radiant Heaters and Misting Fans because of the uncertainty of the weather at game time. Interestingly, several years ago at the Sun Bowl Game in El Paso Texas, Big Fogg set-up its Heating benches for UCLA on one sideline while the opposing team, Northwestern University, used Big Fogg Misting Fans.
Bob Wick, the San Diego Chargers Equipment Manager, commented on Big Fogg's involvement with the NFL, stating "Since 1999, Big Fogg has provided the ultimate in sideline cooling and heating for our team. The Company is not only professional but extremely knowledgeable and the sidelines systems work excellently."
Big Fogg has a reputation for being the premium supplier of sports misting, cooling and heating products. Big Fogg has supplied its outdoor cooling and heating equipment for many sporting events, leagues and for teams, including the 2012 Major League All Star Game, NHL, LA Dodgers, New York Yankees, Boston Red Sox, Los Angeles Angels, PGA, Lucas Oil Event, Motor Sports, and US Tennis Championship. Big Fogg also provides its equipment for corporate picnics, charity events, festivals, fairs, and concerts. Big Fogg was at Coachella in 2012 for a three day concert in the desert where the temperature exceeded 115 degrees.
Big Fogg has been designing, building and installing its Misting Systems since its inception in 1999. Big Fogg specializes in providing outdoor cooling and heating systems in restaurants, residences, resorts, hotels and even on cruise lines. In 2010, Big Fogg was honored to receive the Business of the Year Awards from both the cities of Temecula and Murrieta, CA.
The industrial cooling/misting market has recently very active for Big Fogg, providing many jobs in the odor control, dust suppression, humidification, transformer cooling and factory cooling environments. As an example, the company was asked to provide misting systems at Ground Zero which helped cleanup and reconstruction efforts.
Big Fogg is active in the international market, selling its misting systems, misting fans and inflatable misters. Christopher Miehl, President of Big Fogg spent two weeks in Vietnam last August, researching prospects in the Southeast Asia marketplace. He stated "With the world wide climate warming, there exists numerous opportunities around the globe to protect people from excessive heat. We can also protect people from the cold. Big Fogg intends to continue to provide comfort for its current and new clients."
Please visit Big Fogg online or call at 888-853-1728 for rental or sales information on outdoor heating, cooling and misting systems at your next event or gathering.