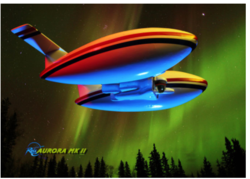 Never has there been a scientific project quite like this...everyone involved is a volunteer and this is a nonprofit scientific research project. We encourage everyone to get the word out and share bigfootblimp.com
Dallas, TX (PRWEB) November 21, 2012
The Christopher Oliver agency and best-selling author James Villepigue have joined forces to volunteer in the promotion of fundraising efforts for the Falcon Project, William Barnes and Dr. Jeff Meldrum's (Idaho State University) project to track sasquatch from the air. The Falcon Project proposes to conduct an extensive aerial search for an unrecognized North American primate, a.k.a. sasquatch or Bigfoot, by means of an helium-filled airship, upon which a platform supporting thermal-imaging and high resolution wireless videography equipment is mounted. The Aurora Mk II airship offers major advantages over similar applications with helicopter or fixed-wing aircraft platforms, foremost, stealth and maneuverability.
"What makes this project so special is that it is completely scientific. This is a real university backing the world's leading expert, Dr. Jeff Meldrum, in the search for hard evidence to prove the existence of Bigfoot once and for all. Never has there been a scientific project quite like this. It is important to note that everyone involved is a volunteer and this is a nonprofit scientific research project. We encourage everyone to get the word out and share Bigfootblimp.com. This site will be updated with direct links to all current fundraising information as it becomes available. This is a grassroots effort. We are excited to be part of the fundraising team.", say Christopher Oliver and James Villepigue.
The Christopher Oliver agency and James Villepigue will promote fundraising efforts online and recruit volunteers to aid in fundraising.
William Barnes, Falcon Project founder and manager says, "We are pleased to have Christopher and James as volunteers on the fundraising team and appreciate their efforts in helping us achieve our vision for the Falcon Project.".
The Christopher Oliver Interactive Agency is based in Dallas, TX and provides digital strategy, marketing and web development services. For more information visit christopheroliver.com.
James Villepigue is the international best-selling author of the Body Sculpting Bible series, books on obstacle racing and is an avid bigfoot enthusiast.