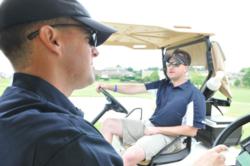 We understand our impact will be greater when we leverage our funds wisely.
Trophy Club, TX (PRWEB) May 01, 2013
Big Game Gear, outdoor gear company, is proud to announce The Gregg Pearson Foundation 11th annual golf tournament to help raise money for families facing serious illnesses. The Gregg Pearson Foundation was founded in 2008 as a response to a family tragedy. Since that time, the foundation has become a blessing for many by helping others by providing financial, spiritual, and emotional support to family and friends who are dealing with cancer and other acute illnesses. In 2012, GPF raised over $36,000 at the golf tournament and hope to surpass that goal this year.
"We assist individuals and families with selected bills that have piled up due to medical costs. We understand our impact will be greater when we leverage our funds wisely. We are dedicated to making a direct impact on individual lives through loving and serving their spiritual needs. Many times, we connect individuals with others in similar situations or those that have gone through similar situations to provide vital emotional support," says President of Gregg Pearson Foundation, Stacey Pearson.
Here are details regarding 2013 GPF Golf Tournament event:
1. Date - May 6, 2013
2. Location - Trophy Club CC (same as last year)
3. Time - check in on the 6th will start at 10am
4. Formats - Classic (4 man scramble, 18 holes) will start at 1pm, Championship (2 man team, 27 holes) will start at 12 noon
5. All players will receive the following for their entry fee: green fees, golf cart, event golf shirt, event golf towel, goodie bag, lunch and dinner, and more
6. Cost - Individual player fee $125 till April 7th, $150 April 8 till April 29
7. Details and Registration can be found online, http://www.greggpearson.org - click on the large white golf ball
All proceeds of the GPI benefit the Gregg Pearson Foundation and all money goes directly to families in need.
The Gregg Pearson Foundation teamed up with Big Game Gear earlier this year in conjunction with Big Game Gear's Give Back Program. Misti Ridgeway says, "If an outdoor consumer makes a purchase through Big Game Gear, enter the code: GPF and at no cost to you, a portion of the total retail order goes directly back to the Gregg Pearson Foundation."
BigGameGear.com is where "American Tradition Lives Online®" BigGameGear.com offers a unique product mix of nearly 40,000 camping, hunting, fishing boating, archery, firearms, marine, tactical outdoor gear and more.
Big Game Gear, outdoor gear company, is an easy-to-use yet comprehensive site that puts it all in one place –outdoor products at great prices, information and outdoor education, Give Back to organizations, amazing deals, and an experience shopping for the great outdoors.
READY-AIM-SHOP at http://www.BigGameGear.com TODAY!