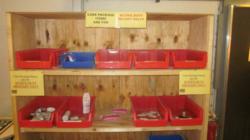 Old Mother Hubbard Cupboards were not this bare!
(PRWEB) April 10, 2013
Big Game Gear, outdoor gear company, is honored to help fellow military. On Monday, April 8, 2013 the USO FOB in Camp Leatherneck posted, "We need your help. With the influx of troops coming and going we have run out of everything! If you would like to help please send care packages to the USO, FOB Leatherneck, APO AE 09372. Thank you very much!". The USO posted pictures of bare shelves stating, "Old Mother Hubbard Cupboards were not this bare!" and "We are even out of Popcorn!" USO Camp Leatherneck is in need of personal hygiene items and snacks for the troops. Items most requested are small simple snacks, candy bars, cookies, pop tarts, chips, microwave popcorn, soap, deodorant, shampoo, conditioner, razors, shaving cream, toothpaste, toothbrushes, small bottles of mouth wash, sunscreen, chap stick, lotion, body powder, etc. Big Game Gear has gathered items and will be shipping goods off to help the soldiers.
Many Americans want to support the troops but do not know how. Employees at Big Game Gear are always looking for opportunities to support the troops and could not let this plea for assistance pass without action. Big Game Gear employees will be sending care packages filled with personal hygiene items and snacks for the troops in Afghanistan. Care packages for the USO can be sent to USO, FOB Leatherneck, APO AE 09372.
Big Game Gear also gives back to organization like JMAC-JT Deer Farm and Task Force Dagger Foundation for their support of military service members. If you would like to Give Back to one of these worthy organizations, please visit the BigGameGear.com "Sponsors and Partners" page and insert the organization CODE of your choice at checkout. At no cost to you, 10% of your purchase will go back to that particular organization as our way of saying thank you for all that they do to help improve the lives of others!
If your organization supports a worthy cause, please feel free to contact Big Game Gear at CustomerService(at)BigGameGear to discuss funding and inclusion into the Big Game Gear Organization Program.
Whether it is hunting, fishing, or camping, they are passionate about this outdoor lifestyle and giving back to organization that make the most of their 10%.
BigGameGear.com is where "American Tradition Lives Online®" BigGameGear.com offers a unique product mix of nearly 40,000 hunting, fishing and camping products online.
Whatever the consumer is looking for regarding outdoor fun and boat maintenance is now available at Big Game Gear. Check back daily as outdoor gear is always being updated.
Big Game Gear, outdoor gear company, is an easy-to-use yet comprehensive site that puts it all in one place –outdoor products at great prices, information and outdoor education, giving back to organizations, amazing deals, and an experience shopping for the great outdoors.
READY-AIM-SHOP at http://www.BigGameGear.com TODAY!