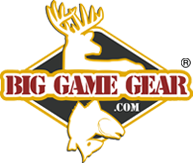 "Our Passions include the outdoors and giving back to the community."
(PRWEB) December 18, 2012
Three men sharing a vision and passion, create a retail extravaganza for hunting, fishing, camping gear and so much more. Outdoor consumers have been gearing up and getting ready for an extreme cost-saving website, and now http://www.biggamegear.com has launched. Since the soft launch in 2010, the Company listened to their consumers and revamped the site for more efficiency and cost savings.
From the great states of Texas and Oklahoma, the founding business owners have grown up enjoying the outdoors. Whether it is marine, tactical, hunting, fishing, or camping, they are passionate about this great lifestyle and what it means to future generations. Charles Simpson says, "We are proud to be a Christian and Veteran Owned Business. Experiencing the outdoors together is a great way for families and friends to create memories, build core values, discover an understanding for conservation, and pass on traditions."
Anyone who has experienced preparing for the outdoors knows it can be overwhelming to go to several places before you find everything you are looking for at the right price. Big Game Gear is a one stop shop for all of your outdoor needs. You no longer have to drive to town to get what you need. Folks can shop online in the comfort of their own home and have the products delivered straight to their front door. This Company has the finest hunting, fishing, camping, marine, firearms, tactical and outdoor gear with everyday discounted prices. "Our Passions include the outdoors and giving back to the community. We wanted to develop a company that was a combination of both" says Ron Ridgeway. Big Game Gear is the vision that has become reality. Great quality products at fair prices, and a unique business model which focuses on supporting outdoor, military, and youth related organizations. "Overall, we are looking for organizations that are aligned with our core values. In short, Big Game Gear is about GOD, COUNTRY, and the OUTDOORS" says Jeremy Whitaker.
With over 400 Brands such as 5.11 Tactical, Alps Mountaineering, Remington, Bushnell, Nikon, Kershaw, Smith and Wesson, Garmin and Maglite just to name a few, and over 40,000 outdoor products to choose from, http://www.biggamegear.com is a haven for someone to get all geared up for the outdoors.
Big Game Gear is an easy-to-use yet comprehensive site that puts it all in one place – products at great prices, information and outdoor education, giving back to organizations, amazing deals, and an experience shopping for the great outdoors. Some of the enhancements to the website include the "Trophy Club" - where outdoor enthusiasts can post and share their trophy photos. Another enhancement is the new custom blog where consumers can interact by adding comments on things like wild game recipes and campfire stories. A big perk for registered consumers is identifying the products they personally want and adding them to their "Wish List" which can be sent out to family and friends for gift suggestions. The new Search functionality allows consumers to search by Brand and Price and filter down to the specific category they are looking for to allow for a more efficient shopping experience. An additional enhancement and probably the greatest benefit is the Give Back Program. Here the consumer can enter a designated organization code at checkout and at no cost to the consumer, a portion of the total sales supports their particular organization of choice.
Others have said that Big Game Gear is the next wave of our outdoor future. Charles Simpson says their vision is "To be the leading retailer of Hunting Gear, Fishing, Tactical, Marine, and Camping Gear by offering consumers a quality product for a fair price while enabling them to give back to outdoor organizations through their purchases. American Tradition Lives Online."
READY-AIM-SHOP at http://www.BigGameGear.com TODAY!