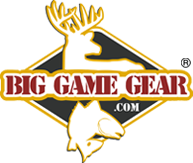 You deserve to take time for yourself this year.
(PRWEB) January 01, 2013
Big Game Gear promotes healthy living and encourages others to go outdoors. As the year 2013 rolls in, it is a time to list New Year resolutions and time to look back on the past year to reflect what should have happened more. Instead of making resolutions just good intentions, make them a reality for 2013.
Where did the outdoors man of the family want to travel to in 2012, but didn't? Big Game Gear has all of the camping gear needed to go outside of the home this year and the GPS units to get there. Who doesn't like to spend more time outdoors? "Spending time outdoors with my family is a treasure. I purchased all of my camping gear from Big Game Gear over Christmas and I can't wait to use it. It is a one stop shop for everything we needed for our camping/fishing trip to Colorado this Spring," says an outdoor enthusiast. Choose your passion. Do you want to Hunt More, Fish More, or Camp More? Big Game Gear has outdoor gear for all of these occasions and more. What family activities could be done together to build family commodore? Big Game Gear finds inspiration in those that are trying to make a healthier lifestyle for themselves and their families.
Big Game Gear sells over 400 outdoor brands such as Frogg Toggs, Adventure Medical Kits, Coghlans, Coleman, Swiss Gear, Remington, Bushnell, Leuopold, Kershaw, Smith and Wesson, Garmin and Maglite just to name a few, and over 40,000 outdoor products to choose from, http://www.biggamegear.com is a haven for someone to get all geared up for the outdoors this year. Get all of your gear for 2013 including camping, hunting, fishing, marine, tactical, and much more outdoor gear to start 2013 off at a healthy start. "You deserve to take time for yourself this year," says Sophie Gray.
Anyone who has experienced preparing for the outdoors knows it can be overwhelming to go to several places before the outdoor enthusiast finds everything at the right price. Big Game Gear is a one stop shop for all outdoor needs. This Company has the finest hunting, fishing, camping, marine, firearms, tactical and outdoor gear with everyday discounted prices. Big Game Gear has great quality products at fair prices, and a unique business model which focuses on supporting outdoor, military, and youth related organizations.
Big Game Gear is an easy-to-use yet comprehensive site that puts it all in one place – products at great prices, information and outdoor education, giving back to organizations, amazing deals, and an experience shopping for the great outdoors.
READY-AIM-SHOP at http://www.BigGameGear.com TODAY!