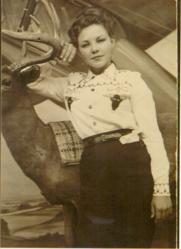 She was our best role model and taught us about enjoying the outdoors and becoming capable women.
(PRWEB) January 14, 2013
With the new year starting and in full force - many women - mothers, aunts, sisters and friends have made it their resolution to take time out for themselves. Some say hobbies including hunting and fishing were originally a sport that men had majority interest in. However, women today are finding these outdoor sports to be a real catch. According to the National Sporting Goods Association, more women are beginning to take up the sport of hunting and fishing in record numbers and introducing it to daughters and other female friends and relatives. Maurrie with SOTF (Sisters On The Fly) says "she was brought up by an adventurous mother. She was our best role model and taught us about enjoying the outdoors and becoming capable women. She is still with us, at 93, traveling and camping and fishing right along with us. "
Women of all ages are now competing in fishing tournaments and winning. Women are enjoying muzzle loading, bow hunting, competitions and are using various firearms which were traditionally for men.
Data gathered over the last few years has proven that many times teaching a younger or older women to hunt and fish can be beneficial and an extremely empowering and rewarding activity. Clinics are available to teach basic hands on skills in safety, hunting, shooting sports and angling to women. Hunting and fishing provides the female gender a lifetime of excitement and self-satisfaction by just spending a day or so in the great outdoors.
This trend has started a chain of events that are beneficial in many areas such as the increased number of fishing and hunting licenses sold which have tremendously risen in such a short time, plus the additional generated taxes on bows, arrows, firearms, ammo, rod and reels including clothing now available especially for female sportswomen and children's toys and clothing. All this is very beneficial because the more people that participates in these activities the more it helps with conservation funding, and it generates funds that help in other areas of the economy as well. Many experts are predicting that there will continue to be a steady increase of women outdoor enthusiast in the very near future and are looking at ways to increase and serve this growing population of sportswomen.
Big Game Gear proudly encourages women to participate in various sporting contests and offers affordable merchandise to meet both sportswomen and men's needs. Experts are predicting that this is not just a trend in this area that will fizzle out, but see it as a future growing industry. It is the year for women to take time for themselves and celebrate in the great outdoors with each other.
Big Game Gear is an easy-to-use yet comprehensive site that puts it all in one place – outdoor products at great prices, information and outdoor education, giving back to organizations, amazing deals, and an experience shopping for the great outdoors.
READY-AIM-SHOP at http://www.BigGameGear.com TODAY!