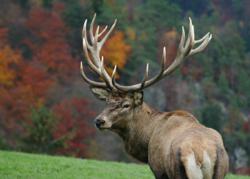 I like it when moms and dads bring their kids out to the ranch because it means they are passing on this tradition to the next generation.
(PRWEB) February 13, 2013
Big Game Gear offers insight into the Stuart Ranch experience. Outdoor families are giving the gift of Stuart Ranch this Valentine's Day. Flowers and chocolates are in the past. This Valentine's Day, give a gift to the outdoor family that keeps on giving for years to come. Planning family hunting trips builds relationships and memories. Stuart Ranch is the perfect place to build family adventure and traditions.
Up on a hill in Caddo, Oklahoma, the original cabin sits where the Stuart Ranch began back in the 1800's. Past down from generation to generation and added onto through marriage and acquisition over the years, the Stuart Ranch now makes up roughly 45,000 acres in Caddo and Waurika, Oklahoma with some of the area's best low fence or no fence hunting opportunities. Clay Forst states, "We are primarily a cattle operation, however, the Outfitter Division offers great opportunities for Whitetail, Eastern and Rio Grand Turkey, Waterfowl and Hog Hunting."
Whitetail
The ranch works hard each year to create a better environment for mature trophy whitetail, so hunters will be more successful. They have been working with the Oklahoma Department of Wildlife to help them reach an optimum buck to doe ratio. Each year they reach their doe harvest goal set by Oklahoma Department of Wildlife Biologists and only harvest mature bucks to help reach their goal faster. Clay states, "We have implemented a 16% protein mineral summer feeding regiment using a product called BoneDmonium to help our deer herd reach their maximum potential for health and growing antlers during the growing season. Food plots are planted yearly to provide our deer herd a winter food source."
Eastern and Rio Grand Turkey
The Caddo Division offers a great habitat to potentially bag half of the Turkey Grandslam in one hunt. Open pecan bottoms surrounded by thick woods are a great place to set up on a mature long beard. Clay and his team offer fully guided hunts that can be tailored to every need by getting the hunter set up and calling in a Turkey where all one has to do is aim and shoot.
Water Fowl
In Waurika, the ranch sits conveniently in the central flyway bringing in an abundance of waterfowl yearly. The ranch has 5 government watershed lakes that range from 12-40 acres in size which offer a great place for duck and geese to land. In addition to government watersheds, the ranch has many acres of farmland which further entices waterfowl. The habitat is great for waterfowl, giving the hunter a great chance to limit out each day!
Feral Hog
Spot and stalk hunting is often employed in areas that are open enough in terrain that a large area can be surveyed from a single, or select number of vantage points that can be up to a mile or more away from the hog being surveyed. The hunter starts surveying an area at first light that has been known to hold a hog. Once spotted, and worth hunting, the hunters wait and watch to see where the feral hogs will bed down for the morning. Ideally more than one hog will be spotted so that if one stalk does not work out, there are other back-ups.
As hog hunting continues to take leaps and bounds throughout the world of big game hunting, Stuart Ranch is turning to management practices that produce trophy boars. The excitement created by the sight of just one wild hog is over. Hunters are searching for bigger and badder hogs and Stuart Ranch is providing techniques that will help produce them.
Meat Hunts
In addition to trophy hunts, affordable meat hunts are offered at $200 per day including guide service, indoor camping and lodging, and blinds. Charles and Ron Simpson with BigGameGear.com, a Stuart Ranch Outfitter partner, took advantage of a doe hunt this past December. "Undoubtedly, one of the best father and son experiences we've ever had! Clay is full of valuable information regarding hunting and true conservation", states, Charles Simpson. "Not everyone can afford a trophy hunt and this type of experience to put some meat in the freezer is well worth it."
Family hunting is also encouraged at Stuart Ranch. Clay states, "I like it when moms and dads bring their kids out to the ranch because it means they are passing on this tradition to the next generation". With so many kids today unable to experience the outdoors in this fashion, Stuart Ranch Outfitters makes it an affordable and enjoyable experience for all to enjoy.
With all of the amenities provided and an experience that is second to none, consider Stuart Ranch for a non traditional Valentine's Day gift. This Valentine's gift is one that will keep on giving in the seasons to come.
Big Game Gear is an easy-to-use yet comprehensive site that puts it all in one place – products at great prices, information and outdoor education, giving back to organizations such as military and cancer, amazing deals, and an experience shopping for the great outdoors.
READY-AIM-SHOP at http://www.BigGameGear.com TODAY!