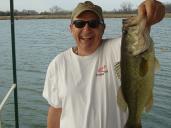 Nathan Marx says, "Thanks...I'm glad I won."
(PRWEB) February 07, 2013
Big Game Gear wants to thank all outdoor enthusiasts who participated in the "Shoot It and Share It" Sweepstakes. All of the outdoor enthusiasts that participated shared photos on the Big Game Gear Trophy Club page. All contestants that participated had some wonderful pictures. Big Game Gear encourages outdoor enthusiasts to check out the trophies that were posted and shared.
Eighty-five pictures were submitted and the public shared those photos liked the most. Size of the trophy was not a factor in the winners. The winners won slowly on the public sharing the photos. The three contestants that shared their photos the most won. First, second, and third place winners have been contacted to receive selected prizes. Below are the sweepstakes winners.
Nathan Marx says, "Thanks...I'm glad I won."
First Place Winner - Ron Simpson of Oklahoma "Okie Bass By A Texas"
One (1) Big Game Treestand Boss Lite Packable Combo, Model CR0750-S Approximate Retail Value: $133.99
Second Place Winner - Roxzann Glick of Texas "Deer = It's Whats for Dinner"
One (1) Streamlight Sidewinder Flashlight, Green Color, Model 14133, Approximate Retail Value: $83.00
Third Place Winner - Nathan Marx of Texas "My Most Memorable Muley"
One (1) Foreverlast G2 Pro Wading Belt, Approximate Retail Value: $44.95
Even though the sweepstakes is officially over, Big Game Gear encourages others to post pictures of outdoor hunting adventures as the action happens! Post pictures all year long on Big Game Gear's Trophy Club Page.
Big Game Gear is an easy-to-use yet comprehensive site that puts it all in one place – outdoor products at great prices, information and outdoor education, the Give Back program, amazing deals, and an experience shopping for the great outdoors.
READY-AIM-SHOP at http://www.BigGameGear.com TODAY!