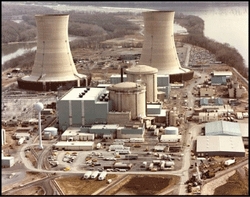 San Leadro, CA (Vocus) May 5, 2010
Bigge Crane and Rigging will be moving a 460 ton electric generator from the Three Mile Island power plant to its new home at Progress Energy in North Carolina. This generator has been extracted from Unit 2, the reactor suffering a partial meltdown in 1979, and has been inactive since then. However, because the unit is an electric generator and not a steam generator, it had no contact with the radiation, and has been thoroughly tested and no radiation has been found on the unit.
Bigge's heavy lift and transportation division is handling the move. First, it will go by trailer down Route 441 S on Thursday May 6 and Friday May 7. On Saturday, it will cross the Route 30 bridge, and on Sunday progress down Route 462 W and Highway 24 South. To insure safety, Bigge will be moving this load at low speed, no faster than 12 miles an hour. From there, it will go by barge to Virginia, and then by rail to North Carolina. Road closures along the route will make it easy for people to come out and see the giant generator move.
This heavy transportation project follows Bigge's replacement of a nuclear reactor vessel head at Three Mile Island, Unit 1, in 2003.
ABOUT BIGGE CRANE
Bigge Crane & Rigging is the premier engineered heavy lift, heavy rigging, and specialized transportation company in the U.S. Since 1959, when Bigge provided services for one of the nation's first nuclear power facilities at PG&E's Humboldt Bay Power Plant in California, Bigge has pioneered, planned, and engineered solutions to meet the unique construction, maintenance, refurbishment or nuclear decommissioning needs at dozens of nuclear power plants throughout the United States. Bigge has thirteen regional offices, including its new regional headquarters in Houston, TX.
####