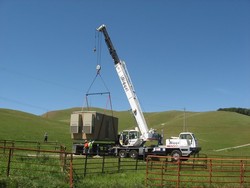 Bigge has found that good environmental practices are also good business.
San Leandro, CA (Vocus) April 10, 2010
Bigge has been working to protect the environment in which it works and lives. Bigge stands alone in the crane industry with respect to environmental responsibility, going beyond merely complying with regulations by doing everything possible to reduce their environmental impact.
To this end, Bigge has adopted numerous "Green Initiatives":
Fleet Upgrades
Years before recent regulations were announced, Bigge started aggressively replacing equipment utilizing older Tier 0 engines with cleaner burning, more fuel efficient Tier 3 technology. In 2006, 35% of Bigge's fleet consisted of pre-1996, Tier 0 machines. Only four years later, the proportion of Tier 0 equipment has dropped to 8% and cranes with Tier 3 engines, the cleanest available, now make up 26% of Bigge's fleet.
Five-Star Inspection
At the same time that Bigge began aggressively upgrading its fleet, Bigge also deployed a rigorous inspection and maintenance program, the Bigge 5-star Inspection Program. Every crane deployed by Bigge must pass a 144-point inspection. Through this program, Bigge has not only helped to reduce air emissions, but has also been able to dramatically reduce diesel fuel, engine oil and hydraulic oil leaks, curbing another environmental concern.
Recycling Program
Bigge has also instituted an industry leading recycling program. Bigge recycles all of the waste oils and coolant produced by their cranes, as well as all paper, wood, metal, plastic and even electronic products. Many of these waste products are sold to recyclers, or disposed of in an ecologically beneficial manner. Bigge works with Evergreen Oil as their green partner for disposal of harmful waste.
Green Initiatives a "Win-Win"
Bigge has found that good environmental practices are also good business. By continuing to reduce their carbon footprint, the environment benefits because of cleaner air, soil and water. Bigge's customers benefit from the latest, most fuel efficient equipment with higher productivity and better schedules. And Bigge itself benefits from these initiatives by being able to provide their customers with more productive equipment with reduced maintenance costs. Green initiatives are truly a "win-win" situation for Bigge, their customers, and the environment.
Get CARB Compliant with Bigge
To support new CARB (California Air Resource Board) emission regulations and keep California crane owners running green, Bigge is an active dealer for Cleaire retrofit filters and a certified installer for all on-road and off-road crane applications. Depending on the size of your fleet, crane owners have to comply with the new diesel engine Tier 3 requirements. Sales and installations will be offered at every Bigge California service facility. Bigge also employs a field service fleet of certified technicians for installation and service anywhere in the U.S. To comply with new CARB standards, contact 888.337.BIGGE.
# # #