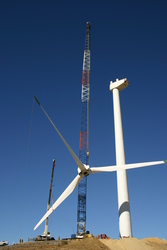 Bigge Crane is a wind power pioneer, helping to erect the first wind farm in California in 1979.
Houston, TX (Vocus) May 22, 2010
Bigge Crane and Rigging will be attending the Windpower 2010 Conference and Exhibition. The AWEA event is the largest wind energy event in the world. It is taking place at the Dallas Convention Center from May 23rd to the 26th. The conference focuses on recent renewable energy developments, as well as challenges facing the industry. This year, on Tuesday May 25, Windpower 2010 features an address by long-time champion of renewable energy, former U.S. President George W. Bush.
Bigge Crane is a wind power pioneer, helping to erect the first wind farm in California in 1979. Bigge has since helped to accelerate the construction of wind turbine parks. Recently, Bigge took delivery of the first Manitowoc 16000 Crawler Crane equipped with 292 ft heavy boom and new 23' wind jib optimized for the Wind Power industry anywhere in the U.S. With the heavy-boom attachment, the 16000 is now unparalleled when erecting 2.5 MW wind power turbines on 80m & 85m towers.
Because of Bigge's commitment to wind power and renewable energy, they have been growing. Recently, Bigge opened a branch in Houston, TX to best accommodate its growing roster of wind power customers. Bigge's Houston location concentrates on crane rental for the wind power and refinery industries. Bigge also supports wind power contractors by offering a full engineering design service, complete with Auto CAD drawings, for planning lifting and transportation operations.
ABOUT BIGGE CRANE
Bigge Crane and Rigging is one of North America's largest crane sales and crane rental companies. Bigge specializes in heavy lift, heavy rigging and specialized transportation projects for the refinery, petrochemical, power and civil infrastructure industries. Their headquarters are in San Leandro, CA, with ten offices nationwide. They will be attending Windpower 2010 all days.
# # #