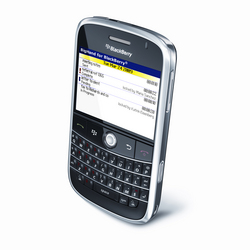 We spent a lot of time on due diligence and comparing our options and selected BigHand based on a variety of factors ranging from usability, mobility options and the overall attractiveness of the user interface
Chicago, IL (PRWEB) December 16, 2009
Syracuse, NY-based Bond Schoeneck & King today announced it has implemented BigHand voice productivity software. Since switching to BigHand in late August, the firm has been able to centralize all digital dictation workflows leading to seamless work-sharing across its network of 11 offices. In addition to workflow gains and inter-office collaboration, the firm has successfully introduced BigHand for BlackBerry® Smartphones resulting in a more mobile workforce, greater productivity when out of the office and a reduced IT investment in new dictation equipment.
Bond Schoeneck & King, which has past experience with digital dictation technology, also selected BigHand based on the ease of set-up and administration and the limited IT overhead necessary to maintain the system on an ongoing basis.
"We spent a lot of time on due diligence and comparing our options and selected BigHand based on a variety of factors ranging from usability, mobility options and the overall attractiveness of the user interface" stated Jean Hay, IT Director for Bond, Schoeneck & King. "We always give our users options and BigHand has by far been one of our most popular new technologies. Our mobile workforce loves BigHand for BlackBerry® and all users really appreciate the ease of use and limited training involved in getting started."
Bond Schoeneck & King, which was able to fully implement BigHand software themselves including all user training, has seen an increase in user adoption since the 'go live' date. The firm has documented various other benefits since making the switch including:

Replacing antiquated dictation equipment with less new hardware (or existing BlackBerry devices);
More responsive and scalable dictation workflows with increased flexibility for all users;
Ease of use and new methods of dictating and leveraging voice productivity;
Work sharing among support staff leading to increased team work and shorter document production turnaround;
Self sufficient mobile lawyers who are now able to dictate on the fly and produce on-demand client work in a much quicker manner.
Globally, BigHand has offices in Chicago, Toronto, London and Sydney with over 900 professional service organizations and 90,000 users as clients. For more information about how BigHand can make law firms more efficient, please visit http://www.bighand.com or email inquiry@bighand.com.
About Bond, Schoeneck & King, PLLC
Bond, Schoeneck & King is a full service law firm, founded in 1897 and has since grown to a firm of 200. The firm operates offices in New York City, Albany, Buffalo, Garden City, Ithaca, Oswego, Rochester, Syracuse and Utica, New York; as well as Overland Park, Kansas and Naples, Florida. For a complete list of practice areas and industries served visit the Bond, Schoeneck & King website at http://www.bsk.com.
About BigHand
BigHand is based out of Chicago, London, Sydney, and Toronto. BigHand is a Microsoft Gold Partner, BlackBerry ISV Partner, and was voted as 'Dictation System of the Year' at the 7th Annual Law Technology News (LTN) Awards 2009. BigHand was also nominated at the British Legal Awards 2009 as 'Technology Provider of the Year'. Additionally BigHand won 'Mobile Product of the Year' at the CNet Business Technology Awards 2008 and 'Best of Breed System of the Year' at the Legal Technology Awards for 2008. Further information is available at http://www.bighand.com
Contact:
Dan Speed, VP Marketing, BigHand Inc
###