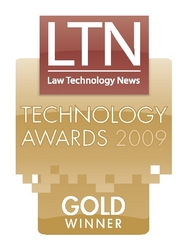 Chicago, IL (PRWEB) December 18, 2009
BigHand Inc, the leading voice productivity application in the professional services community, has been voted best 'Dictation System' at the Law Technology News Awards 2009. BigHand for BlackBerry® also scooped the Silver medal in the 'Mobile Tool' category, the only digital dictation application to be nominated in this category.
Steve Butterworth, President & CEO of BigHand Inc, commented:
"This year we have seen firms in the North American legal space moving from older dictation systems over to BigHand voice productivity software to take advantage of both our Smartphone preeminence and our intuitive .Net Enterprise Workflow Application. To see how this has been appreciated by users themselves means a great deal to our North American team, who have worked tirelessly to ensure that law firms are able to save money, increase staff efficiencies, and make their attorneys more productive using BigHand applications in the current climate."
In 2009, the editors of Law Technology News asked the publication's more than 40,000 subscribers to identify products and vendors that represented outstanding achievement in legal technology in 25 categories for its seventh annual awards program. The awards, selected based on subscriber online voting, will be presented at LegalTech New York on February 1, 2010. Information on the awards and winners will be featured in the March 2010 issue of Law Technology News and on the magazine's Web site at http://www.lawtechnologynews.com.
Monica Bay, Editor-in-Chief of Law Technology News commented "We congratulate the 2009 LTN Award winners, and applaud their creativity and innovations. The awards dramatically illustrate how our community is determined to develop and adopt superb technologies that help legal organizations deliver better, faster, and cheaper legal services in these turbulent economic times."
BigHand software is used by over 900 firms and more than 90,000 business users worldwide. BigHand for BlackBerry® is supported on the BlackBerry® Tour™, Storm™, Bold™, Curve™, Pearl™, 8800 Series, 8700 Series, and on both the BIS and BES Server platform across BlackBerry Operating Systems (OS) 4.2, 4.5, 4.6, and 4.7.
About BigHand
BigHand is based out of Chicago, London, Sydney, and Toronto. BigHand is a Microsoft Gold Partner, BlackBerry ISV Partner, and was voted as 'Dictation System of the Year' at the 7th Annual Law Technology News (LTN) Awards 2009. BigHand was also nominated at the British Legal Awards 2009 as 'Technology Provider of the Year'. Additionally BigHand won 'Mobile Product of the Year' at the CNet Business Technology Awards 2008 and 'Best of Breed System of the Year' at the Legal Technology Awards for 2008. Further information is available at http://www.bighand.com
About Law Technology News
Law Technology News provides timely information and insight into the latest technologies, products and services available for the legal marketplace. Each month, the award-winning magazine features new product announcements, as well as monthly articles and columns written by industry experts and senior law firm decision makers. LTN is distributed to more than 40,000 selected subscribers and is also available on the Web at http://www.lawtechnologynews.com. The magazine is published by ALM, a leading provider of specialized business news and information, focused primarily on the legal and commercial real estate sectors.
Contact: Dan Speed, VP Marketing, BigHand Inc, dan(dot)speed(at)bighand(dot)com
###