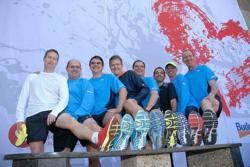 "The more we can get people active, the more we can get them healthy. People can get involved by following us on the web to see how the guys progress, and by donating money." Lindsey Parry, Official Coach for Big Heart 750 & Comrades Marathon
Johannesburg, Gauteng (PRWEB) June 23, 2011
Eight middle-aged Momentum employees are running 750km in the heart of winter (19-24 June 2011) from their head office in Centurion to Durban in order to raise awareness and funds for the Heart and Stroke Foundation of South Africa (HSFSA).
These eight employees – each of them with a story to tell – have taken up the challenge because they know that the risk of heart disease and stroke can be reduced through lifestyle changes. Members of the public can follow their progress on the live blog at http://www.bigheart750.co.za, and donate funds to the HSFA via the blog or by SMSing "BIG HEART" to 40699 (each SMS will be billed at R20).
Momentum's Head of Risk Marketing, Kevin Letord, made heart disease and stroke awareness a top priority after viewing research from the Association for Savings and Investment South Africa (ASISA) last year, showing that 160 000 income earners will pass away in 2011 and 52 000 earners could suffer total and permanent disability. This means that more than 212 000 families will face unanticipated financial hardship this year.
Because Momentum is in the business of providing life insurance and other long-term risk products, they know that the highest claims for these risk products are heart attacks, strokes and cancer. "We know that there is a problem, and we feel it is our responsibility to do something dramatic to make sure that the general public is aware of it too," says Kevin.
And now it's all down to the eight Momentum Big heart 750 runners. None of them were super-fit sportsmen before they took up the challenge, but they are all united in their determination to make a difference. They have undergone a rigorous training routine under the guidance of Lindsey Parry, the Official Coach for the Comrades Marathon Association and Head Sports Scientist at the High Performance Centre at the University of Pretoria.
The team are running in relays, with each runner hitting the road for two sessions of 50 minutes each day. They start at 5.30am every morning and are covering approximately 120km per day.
"Not everyone was actively exercising at the time, so we built them up over a period of time to do a significant challenge," says Parry. "The more we can get people active, the more we can get them healthy. People can get involved by following us on the web to see how the guys progress, and by donating money."
All the runners are motivated by their belief in the cause, but some have personal reasons for getting involved, like Bertus Visser, who suffered a stroke at the age of 19, and Rimesh Solari, who is running in memoriam of his best friend who recently died from a heart attack.
Together, they aim to raise R500 000 for the HSFA, and Momentum Myriad has agreed to match their contribution rand for rand. Momentum is also covering the administrative costs and ensuring that every donation goes directly towards treating heart disease and stroke.
Proudly supported by Nike, Budget & Dischem.
###