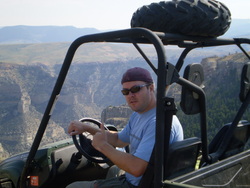 The Bighorn Mountains are unique, beautiful and pristine, wild and untouched
Big Horn Mountains, Wyo. (PRWEB) March 25, 2009
Wyoming High Country, the nation's most authentic, Western four-seasons resort, is now open to the public with a new full-service lodge, cabins, great food, and guided service to myriad year-round recreational activities in the Big Horn Mountains.
"The Bighorn Mountains are unique, beautiful and pristine, wild and untouched," said Marc Thornton, manager of Wyoming High Country. "And now you can experience it all without roughing it."
Thornton is referring to the new luxury lodge and cabins built on top of the Big Horn Mountains that border Wyoming and Montana. It's now possible to have a plush vacation while still being able to hike, bike, ride horses and ATVs, snowmobile, cross-country ski, or hunt and fish on hundreds of thousands of untouched, spectacular mountain acres. There is no other mountain vacation like it.
"There are no neighbors. This is a truly authentic, Western experience," said Michael Bischoff, a part owner in the resort. "How many places can you go forever and you won't get on anyone else's property? This is the real thing. It is one of the few that are left in the country; and I'm not saying that for fun."
Any outdoor vacation or mountain vacation isn't complete without good eats. Thornton hired an onsite cooking staff just for that reason. They cook western-style gourmet, including steaks and potatoes, ribs and more for the lodge and outbound camps.
It's a forgotten place with deep roots in Western history. You can ride the same trails that author Louis L'Amour wrote about in "Westward the Tide," and tour spots like Mexican Hill where both livestock and ranchers died in the sheep and cattle wars. Visitors can also take part in genuine cattle drives and tour the Bighorn National Forest and the impressive Devil's Canyon, or just relax at the lodge, listen to the nearby brook and spot the resident elk, moose and other wildlife.
About Us
Wyoming High Country is the nation's most authentic Western resort located at 9,000 feet elevation in Wyoming's Big Horn Mountain. Wyoming High Country has all you need for a mountain vacation - a working cattle ranch, trail riding, epic snowmobiling, pack trips, Wyoming fly-fishing, Wyoming hunting trips, hiking, mountain bike and ATV trails, and the most secluded and hospitable mountain lodging anywhere, including cabins, lodges and out-bound camps. Trail riders are welcome to bring their own horses and explore the Big Horn's unique attractions at their leisure. Hearty family-style ranch meals are served in front of the fireplace and outside on the deck. The best way to access the resort is to fly direct to Billings, Mont. Wyoming High Country can coordinate transportation to and from the airport. For more information, visit http://www.wyhighcountry.com or call 877-548-2301 for reservations.
###