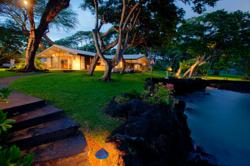 "The Keauhou Bay Estate is rich in nostalgic Hawaiian charm....."says Gayle Ching,R(S), Regional VP of MacArthur and Company/Sotheby's International Realty
Kailua - Kona, Hawaii (Vocus/PRWEB) March 09, 2011
Designed by Vladimir Ossipoff in 1950s the three acre oceanfront estate represents a piece of Hawaiian history on the Keauhou Bay (home to The Great King Kamehameha). Recently listed for sale by Gayle Ching, R(S), Regional VP of MacArthur and Company Sotheby's International Realty, Keauhou-Kona Branch.
Vladimir Ossipoff, known as "the Master of Hawaiian Architecture, " Dean of Residential Architects in Hawaii," and " The Premiere postwar designer of Kama'aina Style residences in Honolulu," is well known for his famous Liljestrand House, his most "intricate as well as most widely publicized domestic commission." Ching states "The Keauhou Bay Estate is rich in nostalgic Hawaiian charm. Ossipoff designed the house to have an open flowing feeling that embodies the island lifestyle." The gated estate has a Main residence, pool house and two separate guest hales, caretaker's cottage and tennis court. The grounds are home to a wide range of fruit and indigenous vegetation including ancient monkey pod trees. Coastline with a private dock to the bay for boating, snorkeling, paddling and of other water activities year round.
The estate's surrounding, Keauhou Bay, was once home to King Kamehamea the Great. Bench mark to the location where the king would launch his canoe at the water's edge. The grounds attracted Hollywood legend John Wayne, years after the estate was constructed, as the location of his wedding. Wayne was married under the arching canopy of trees on the property. The estate has been captivating locals and visitors alike for generations.
The Ossipoff Keauhou Bay Estate is currently listed by Gayle A. Ching, Regional VP, Realtor Associate of MacArthur and Company Sotheby's International Realty, Keauhou, Kona office for $11.5 Million USD
Renowned for extraordinary service, worldwide marketing and a vast network of clients and brokers, MacArthur and Company Sotheby's International Realty, founded by Dodie MacArthur R(B), has been a leader in the luxury real estate market since its doors opened in 1988. Combining personal attention, exemplary experience and unlimited resources enables MacArthur & Company Sotheby's International Realty its hand picked team of professionals in two Big Island locations to consistently achieve record-breaking sales on the Kona-Kohala Coast and excel as a Big Island real estate market leader. http://bigislandreale.com
###