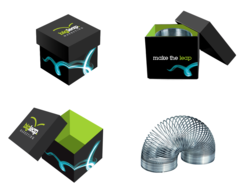 We've been shortlisted for this award based on our results.
Bristol (PRWEB UK) 13 November 2012
A shortlisted finalist in the 'best use of live event marketing' category of the B2B Marketing Awards 2012, the Bristol agency has been recognized for the highly successful integrated marketing campaign that launched UK technology start up - NeutrinoBI - into the stars in February 2012. For the client, the sky is the limit following its initial leap, and for Big Leap - the judging panel was particularly impressed with the launch campaign's fantastic early results.
Big Leap's award nominated event team has just returned from Barcelona where it continued to work alongside the client to sustain the momentum and the buzz that they created earlier in the year.
Lorraine Jones, Big Leap's Director shares her thoughts on the agency's recent successes: "Working with clients like NeutrinoBI really lets us show-case what Big Leap can do; add real value to a business. It's brilliant to work with a client that's open to ideas, and is prepared to think big. We actually advised them to take a step back, rebrand, and prepare for a launch in market they weren't going to target – which is a big ask for any company. Having convinced the Board that it was the right thing to do, they now have the results to prove it. The fact we've been shortlisted for this award, based on our results, is testament to the way that our team works with the client to really understand it's objectives and deliver the results they need to take a big leap forward in their marketing."
Big Leap Marketing's open studio evening is on Wednesday 14th November (email hello (at) abigleap (dot) co (dot) uk for details).
About Big Leap:
Big Leap Marketing (trading name for Market-Ease Ltd) was founded in Bristol in 2005 and has since developed a diverse portfolio of local, national, and international clients, primarily in the technology and professional services spheres. Big Leap only works with experienced marketing associates that focus all their energy, passion, and expertise on helping clients take a big leap forward in their marketing – whether they are managing the whole show as an outsourced marketing team or a specific marketing project such as rebranding, website development, or vertical campaigning. For more information and a full list of marketing services, visit: http://www.abigleap.co.uk or connect via @big_leap and Linkedin