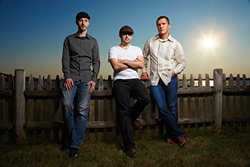 A perfect 10, with a hint of sloppy satisfaction, The Big Lonesome brings everything to a show, except for a sloppy performance. - Johnny Katz, Allston Music
Boston, MA (PRWEB) June 12, 2014
The Big Lonesome releases "Undone."
Boston's The Big Lonesome features catchy tunes, layered instrumentation, and a healthy obsession with melody. Though the band began as a solo roots-rock project by singer-songwriter Chad Gosselin, over the past two years the band has developed their dynamic, "stick-in-your-head" group sound. An emphasis on indie rock, a hint of americana, and a sensibility for pop makes for an energetic performance as they consistently tour the Northeast, garnering press comparisons to Wilco, Neil Young, Band of Horses, and Dr. Dog. With the release of their long-awaited debut album, Undone, The Big Lonesome has created a diverse collection of songs that illustrates both musical and emotional depth.
While indie rock is the band's definitive genre, a deep roots inspiration shines through on several tracks, including "Undone" and the lively, upbeat "What The Hell Am I Supposed To Do?" A soft, country twang can be heard from Chad and Luke Gosselin's guitars, while Michael Moore's (drums) rhythms on "What The Hell Am I Supposed To Do?" tie up the country knot and create a full, roots-rock sound. Chad's vocals on the album, backed by Luke's harmonies, range from soft and caressing to energetic and compelling, creating a powerful listening experience.
The songs on Undone reflect the personal experiences of members of the band, with addictions and forlorn relationships serving as major themes throughout the EP. "Naked Tremelo" and "Rockland Place" tell heartbreaking and encapsulating stories, depicting memories of early drug and alcohol abuse, while songs like "Undone" and "SOS" are sobering reminders of the present. Undone was recorded with Sean McLaughlin (Matchbox 20, Elliott Smith, Rush) and Jeff Lipton (Wilco, Andrew Bird, Arcade Fire).
You can learn more about The Big Lonesome at http://www.thebiglonesome.net.
For more information, images, or to arrange for an interview, please contact Melissa Zeigler at Powderfinger Promotions: melissa(at)powderfingerpromo(dot)com.
Powderfinger Promotions–Independent Radio Promotion and Publicity. Since being founded in October 1994, Powderfinger has come to be regarded as a top indie radio promotion and publicity firm with ties across North America.