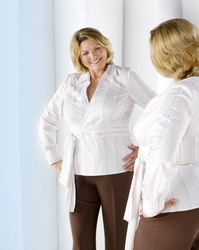 At OPTIFAST, we've helped people transform their lives for more than 30 years--and we've seen what a huge impact losing a significant amount of weight does for our participants' health, confidence and outlook on life
Minneapolis, MN (PRWEB) August 28, 2009
Nestlé's medically monitored weight loss program, OPTIFAST, announces its new weight loss contest where three big losers can enjoy big prizes, including a three-night trip for two to New York City, a spa makeover and a $500 shopping spree.
"At OPTIFAST, we've helped people transform their lives for more than 30 years--and we've seen what a huge impact losing a significant amount of weight does for our participants' health, confidence and outlook on life," said Jessie Joslin, OPTIFAST marketing manager. "The OPTIFAST Weight Loss Contest is an opportunity to celebrate our graduates' transformations, as well as their dedication and commitment to a healthy lifestyle."
The competition is open to new participants aged 18 years and older who've signed up for The OPTIFAST Program between Aug. 1 and Nov. 1, 2009, and have completed the first 12 weeks of the program. To be considered, submissions must include an entry form (available on the OPTIFAST Web site or by emailing OPTIFASTmarketing@us.nestle.com) and an essay (no more than 500 words) about the impact the weight loss journey has had on the participant's life.
"When many OPTIFAST participants complete the first 12 weeks of the program, they can't wait to share their journey as a way to help motivate others who share the same challenges they once faced," said Joslin. "The essay is their opportunity to tell their story. We can't wait to learn more about these inspirational stories."
The winners will participate in a professional photo shoot promoting the OPTIFAST Program, and all essays will become the property of Nestlé.
Judging will be based primarily on the creativity of the essays and the compelling nature of the participant's weight loss journey, but total weight loss will also be considered. Complete entry details and contest rules can be found on the OPTIFAST Web site. The deadline for submission is 11:59 p.m. on Feb. 1, 2010.
About OPTIFAST
OPTIFAST was developed in 1974 to fill the growing need to treat obesity. As diseases related to obesity became more prevalent, and more and more people began taking drastic measures to treat the problem, OPTIFAST was introduced as a sensible option for lifestyle transformation. The OPTIFAST experience is one of the most comprehensive weight loss options available. The program combines support and counseling, lifestyle education and medical monitoring with meal replacements to help people lose weight and reduce weight-related health risks. A team of dedicated medical professionals provides support. The OPTIFAST Program is available in over 400 clinics nationwide. For more information, to see patient stories and to find a clinic, visit http://www.OPTIFAST.com.
###