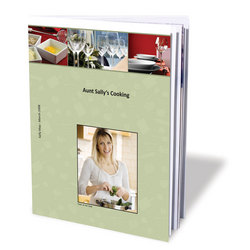 As a company that focuses on simplifying the book making process as much as possible, we are delighted that BigOven is giving users the choice to start from scratch or select a themed book
Seattle, WA and New York, NY (PRWEB) April 3, 2008
BigOven.com, a rapidly growing social network about food, and SharedBook Inc., the Reverse Publishing Platform provider, introduced the ability for anyone in the world to create custom and personalized cookbooks today. Visitors to BigOven.com, as well as users of BigOven's award-winning desktop recipe software can easily compile recipes, notes, stories and photographs in a choice of several professionally-printed formats.
The BigOven Cookbook™ is a fast and simple way to gather and publish family or group recipe collections, including those that may be spread across multiple users around the world. BigOven Cookbooks make a thoughtful and unique gift, a great personal archive, or a useful fundraising item.
When cooks post recipes and photographs to BigOven.com, there is no charge, and the materials can be tagged or assigned to a specific Cooking Group.
Unique to this solution, BigOven users can quickly and easily create a book from any set of search results on the site, including the many Cooking Groups that focus on specific diets, occasions, regional foods and types of cuisine, among others. Users can also compile individual recipes from their site Favorites if they choose.
"BigOven is committed to becoming the best and most innovative social network about food," said Steve Murch, Chief Executive Officer and Head Chef, BigOven.com. "The ability to create custom cookbooks has been a frequent request from the community. I look forward to seeing how our 90,000 members around the world use this easy service to create and publish their own cookbooks."
With just a few clicks, cooks can select the recipes they want to include in a book and the order in which they should appear, choose a cover design and title, and upload a cover photo. After the selections have been made, it just takes one click of a mouse and a few seconds to generate an online preview of the completed book product.
The user then has a choice of previewing the book and purchasing it immediately, or personalizing it further. This is when personal notes, stories and photographs can be added. The application is also fully collaborative, enabling users to invite family and friends into their personal and secure book making space to contribute additional information. Individuals invited into the space can also make their own book if they like.
"As a company that focuses on simplifying the book making process as much as possible, we are delighted that BigOven is giving users the choice to start from scratch or select a themed book," said Caroline Vanderlip, Chief Executive Officer, SharedBook Inc. "The BigOven Cookbook is also a perfect example of the type of application that can be built using SharedBook's API, which is available for all to use."
Pricing begins at $29.95 in a perfect bound softcover format and $38.99 for a coil in case bound format for lay-flat use in the kitchen. These prices include a full-color 20-page book with free U.S. shipping and a readable flipbook version of the book that can be virally distributed. Additional pages can be added at a rate of $1 for each additional two pages.
For those that have large collections of handwritten or electronic recipes, White Glove Service is available for an additional $25 fee. Recipes can be sent to SharedBook for scanning, or submitted electronically if the content is already in Word or e-mail format. SharedBook will then add the recipes to the cookbook.
For more information, or to create your own keepsake cookbook, please go to BigOven.com.
About BigOven.com
Seattle-based BigOven.com is a rapidly-growing social network about food, with over 160,000 recipes and 90,000+ members from around the world. Cooks can post recipes, photos, how-to cooking videos, and tips for free and search recipes in a variety of ways, including "what's fresh", "leftover wizard", flavor tags and more.
First released in 2004, BigOven.com now serves over a million visitors each month, up more than five-fold over last year. The founder, Steve Murch, is an avid cook with over three decades of experience in the personal computing industry, including executive-level experience at both Microsoft Corporation and Expedia, Inc.
About SharedBook
SharedBook Inc. is a technology company that specializes in integrating and publishing data from various sources into a structured book product that can sit as a flipbook on the Internet or be professionally printed. The company's collaborative on-demand Reverse Publishing Platform allows users to extract data and content from multiple sources, manipulate it, and then distribute their unique creation in digital or hard copy format. SharedBook partners include Allrecipes.com, Boston Symphony Orchestra, The Canyons Resort, CarePages, Inc. (a division of Revolution Health Group), Exposures, 4-H, FuneralNet, Herff Jones, Inc., JumpTV Sports, Legacy.com, Little League International®, The Officer Down Memorial Page, Inc., Random House, Inc., Regent Seven Seas Cruises, Sportography, Inc., Steamboat Ski Resort, YAVarsity.com, and Yosemite. For more information, please go to http://www.sharedbook.com or http://blog.sharedbook.com.
# # #