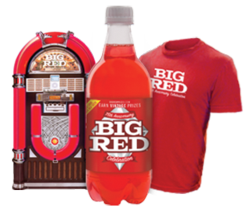 "We have some of the most passionate fans in the market, so we believe that these unique, vintage prizes are a fantastic way to reward our customers for their loyalty the past 75 years." -- Big Red CEO Gary Smith
Austin, TX (PRWEB) May 09, 2012
This summer, to celebrate its 75th Anniversary, Big Red, America's original and #1 selling red soda, is giving away thousands of vintage prizes. Starting this week, specially-marked anniversary packages of Big Red and Big Red Zero 20oz, 2 liter and 12 packs will contain codes with points that consumers can redeem at BigRedPrizes.com for classic-style Big Red memorabilia.
"Since 1937, Big Red has been refreshing consumers with its indescribable, sweet, smooth flavor," says Big Red Inc. CEO Gary Smith. "We have some of the most passionate fans in the market, so we believe that these unique, vintage prizes are a fantastic way to reward our customers for their loyalty the past 75 years."
More than 10,000 prizes will be awarded to fans, including: vintage–style t-shirts, hoodies and baseball caps, model trucks, desktop refrigerators and iPod stereos. All consumers who sign up for the promotion will also be automatically entered into a sweepstakes to win the grand prize, a full-size Big Red jukebox. You can watch a video detailing the program on Big Red's YouTube channel.
Big Red's first-ever under-the-cap points promotion starts on May 14 and ends August 31. Promotion details and prize information are available at BigRedPrizes.com.
About Big Red, Inc.
Big Red, Inc. is one of the top 10 beverage companies in North America with a history dating back to 1937. Along with Big Red®, recognized as the number-one selling red soda, Big Red, Inc. also markets beverage brands Big Red Zero®, Big Blue®, Big Peach®, Big Pineapple®, NuGrape®, and Nesbitt's ® products. Distributed widely throughout the Dr Pepper Snapple Group, Independent Bottlers and Pepsi Beverages Company, consumers across the country enjoy Big Red, Inc.'s beverages.