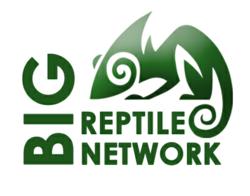 San Diego, CA (PRWEB) December 02, 2011
Big Reptile Network launched its interactive website to connect the reptile industry by providing a free, comprehensive community for people to buy, sell, teach and learn about reptiles.
The website was designed to integrate the latest social and online technologies, and its initiatives focus on community-driven features including a directory, reptile classifieds, blog articles, events and deals. Big Reptile Network is the first reptile-driven website to offer all of these features in one, easy-to-use place for all of its members.
The directory feature lets members easily search and find service providers, reptile retailers and other industry-related businesses and organizations. Members can choose to upgrade their listings for additional features, including the option to post deals that can be claimed on their Facebook page.
The classified ads are a free feature that offers buyers and sellers a chance to advertise and purchase breeding, housing, accessories and other reptile supplies. By creating an environment for reptile enthusiasts to conduct business and form communities, Big Reptile Network solves the biggest obstacle for the industry – their ability to connect with each other.
The blog and event sections of the website provide information on industry news and offer Big Reptile Network members a chance to submit and reply to comments to help them connect with other members through first-hand recommendations and event reviews.
Paid advertising opportunities are also available on the website. Look for Big Reptile Network at upcoming San Diego tradeshows, and connect with Big Reptile Network on Facebook and Twitter to get updates on new website features, contests and promotions.
About BigReptileNetowrk.com
Big Reptile Network is a San Diego based company providing tools for community and e-Commerce to the reptile, amphibian and insect enthusiasts. Big Reptile Network develops websites which are more efficient and streamlined than any others in the industry. Big Reptile Network is managed by a team of web developers and reptile enthusiasts with over 60 years of experience. For more information visit http://www.bigreptilenetwork.com
###