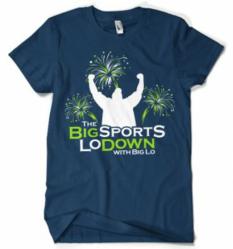 Have a Sports-FANtastic Day!
Issaquah, WA (PRWEB) August 16, 2012
The Big Sports Lo Down is a sports variety show from a fan's perspective. The Big Sports Lo Down features interviews of not only big name players, but also athletes from smaller scale teams and markets. The Big Sports Lo Down airs every Thursday at 4:00 pm Pacific on bigsportslodown.com
The host, Lorin "Big Lo" Sandretzky is known as Seattle's biggest sports fan… His dedication to Seattle sports throughout the past 25+ years has not just included the Seahawks, Mariners and Sonics, but also the Storm, Sounders, Seattle Mist (LFL), Washington Stealth (NLL) and Everett Raptors (IFL).
Big Lo's unique stories and special fan insights have been featured on several major sports shows, media outlets, and major sports networks. He has appeared in the feature documentary, Much More Than a Game and in the independent film, Sonicsgate. Lorin "Big Lo" Sandretzky is the only known fan on the planet that has an Action Figure! His sports fandom is not only as a fan in the stands, but also shows in his experience coaching young athletes.
Big Lo has been a Little League and Junior Football Coach for 14 years and focuses on teaching kids life lessons along with sports fundamentals. Unlike most sports Super Fans, Big Lo is a multi-sport Super Fan, and his love for all sports is portrayed each week on The Big Sports Lo Down. He is jovial soul who loves to share a smile or twelve; he will brighten your day and bring out incredible, and sometimes touching, insights from his guests.
Join in Big Lo's enthusiasm and love for all Seattle sports. Discover insights and personal antidotes from athletes, coaches, and other sports related guests. The Big Sports Lo Down is your source for all things sports related in the Seattle market. Big Lo's guests have included such athletes as, former Seahawk (and Seattle legend) Dave Krieg, Seahawks cornerback Roy Lewis, long jumper Norris Fredrick, Kam Warner and Laurel Creel of the Seattle Mist, and Jason Reid and Adam Brown, directors of Sonicsgate.