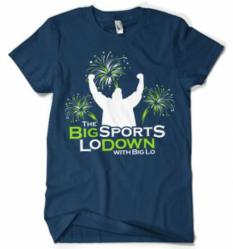 Have a sports FAN-tastic day!
Issaquah, WA (PRWEB) November 08, 2012
Shawn Kemp is considered one of the most prolific power forwards of all-time. His dunks are the thing of legend, and he is a Seattle icon both on and off the court. Kemp was drafted by Seattle at the age of 19 and secured his nickname, "Reign Man," in his second season in the league. These days Shawn Kemp spends his days at the owner of Oskar's Kitchen, a sports bar in Seattle.
The Big Sports Lo Down is the only sports show from a super-fan's perspective. Lorin "Big Lo" Sandretzky has been featured in Sonicsgate and on ESPN and even has his own action figure. Big Lo is the ultimate Seattle Sports Fan and is passionate for all Seattle sports. Big Sports Lo Down takes sports and adds an energy of fun and excitement. Big Lo not only speaks with athletes, but also anyone who is making an impact in the sports world. Past guests include ex-Seahawks Dave Krieg, long jumper Norris Frederick, Seattle Mist quarterback Laurel Creel and SonicsGate producers Jason Reid & Adam Brown.
The second guest on this week's Big Sports Lo Down is recording artist Tas Soul. Tas Soul will be premiering the new Sonics anthem in the hopes of bringing the NBA back to Seattle. Tas Soul has traveled all over the world to share his musical stylings of Hip Hop fused with Rock and Soul. The new Seattle NBA Anthem is entitled "In Sonics We Trust (Bring Back the Green and Gold)"
The Big Sports Lo Down broadcasts each Thursday at 4:00 PM Pacific Time.