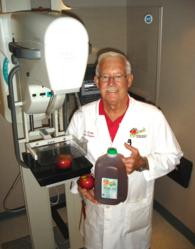 Fly Creek, NY (PRWEB) September 27, 2010
The Fly Creek Cider Mill & Orchard will feature its 12th annual "Big Squeeze Weekend" October 1 and 2. The event is designed not only to increase awareness and early detection of breast cancer and the health benefits of apples but also to raise funds for the Friends of Bassett's commitment to Bassett Cancer Research. All day Saturday Mill sales of fresh, sweet cider in both full gallons and halves will be donated to the Friends.
Returning this year will be Bassett's Mobile Cancer Screening Coach. The Bassett Mobile Mammography Team led by Brenda Nutt will be at the Mill both days from 9:00 until 4:30 to answer questions, schedule appointments and provide tours of the coach. On Sunday the Bassett staff will provide breast exams and digital mammography from 11:00 until 4:00 right there in the coach. The program is designed to encourage healthy lifestyles and early screening through the use of mammography detection. Exemplifying the convenience offered by the coach, nine patients were tested on-site at last year's Big Squeeze event. Since it was launched in December 2008, the coach, with its self-contained exam room and state-of-the-art technology, has traveled throughout Bassett's eight-county service area and already has provided more than 1,600 mammography screenings.
"The Big Squeeze Weekend is our way to kick off Breast Cancer Awareness Month with a special event benefiting Cancer Research. I lost my mom and a dear friend and team member to breast cancer. I'm proud to have our Mill help fund research that hopefully will save lives," states Brenda Michaels, co-owner of the Mill. "Saturday visitors can join in the effort by stocking up on sweet cider to freeze for the winter. We are one of the last water-powered cider mills in the nation. Watching cider being made on the big press is fascinating!"
In addition the Mill will offer more than 10 different varieties of New York State-grown apples for sampling. A recent Cornell University study has identified a dozen compounds in apple peels called triterpenoids that either inhibit or kill cancer cells in laboratory cultures.
A special performance by the Mill's lyricist and impressionist, Ody B. Goldy, Sunday from noon until 4:00 will entertain guests with music and laughs plus participation in breast cancer trivia contests with winners awarded fresh cider.
For more information on the mobile cancer screening coach and ways to support these life-saving services, contact the Friends of Bassett at 607.547.3928. Or, go online to make secured donations at http://www.friendsofbassett.org. For more information about Bassett's Mobile Mammography Program and to make an exam appointment contact Brenda Nutt at 607-547-4830. For more information about the Fly Creek Cider Mill & Orchard visit the web at http://www.flycreekcidermill.com.
# # #