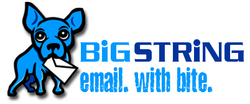 BigString has given podcastGO a niche offering that provides applicable technology, yet is simple to use, implement and scale.
RED BANK, N.J. (PRWEB) August 23, 2007
Beginning September 3rd, podcastGO's 2.4 million users will be able to sign-up for a free, podcastgo.com email account, offering all the functionalities that have made BigString a leader in the burgeoning video, recallable, erasable and self-destructing email industry. Conversely, BigString users will be able to gain access and view the hottest podcasts from podcastGO, at BigString.com's BigFun section.
"Our unique private label email solution allows partners such as podcastGO to offer its users a new email functionality that is not offered by traditional email services," said Darin Myman, President and CEO, BigString Corporation. "It is a value add for podcastGO and its users, and is an endorsement of BigString's ability to create white label solutions for social networking and video content based companies seeking to connect with their customer base."
"We are constantly looking for innovative ways to provide our consumers with savvy products that make their lives easier and keep them coming back to podcastGO.com," said Steven Hearn, President and CEO, podcastGO.com. "BigString has given podcastGO a niche offering that provides applicable technology, yet is simple to use, implement and scale."
Users of the new podcastGO private label email will be able to send an embedded video email (up to 10 minutes in length) without the need for the recipient to click on the a link or download the video. Providing another way for the users to interact with each other and share their video podcasts. Another unique email features allow users to remotely erase or modify emails sent to any recipient, designate their emails to be non-forwardable, non-printable and/or non-savable, or opt to have their emails self-destruct after a set amount of time or views. In addition, users will also have the added security to send secure emails via an encrypted, password-protected email system that can only be open via a Secure Socket Layer (SSL).
About podcastGO
podcastGO is the global, mobile network dedicated to lifestyle based infotainment. With a platform agnostic approach, podcastGO provides consumers with easily accessible and informative content when, where and how they want it. Multiple channels, ranging from health, cooking to fashion, money management and beyond, provides consumers with valuable information and entertainment in short format video with added features such as text summary/support.
About BigString
BigString Corporation, owner and operator of BigString.com, is a provider of user-controllable email services. In addition to permitting users to send recallable, erasable, self-destructing and video emails, BigString's patent-pending technology allows emails and pictures to be rendered non-printable or non-savable. This can be done before or after the recipient reads it, no matter what Internet service provider is being used. BigString's product offerings include free email accounts for individuals, professional business email solutions and email marketing services. BigString Interactive, Inc., a wholly-owned subsidiary of BigString Corporation, operates an interactive entertainment portal that contains live streaming audio and video programming.
Forward Looking Statements
Statements about the future expectations of BigString Corporation, and all other statements in this press release other than historical facts, are "forward looking statements" within the meaning of Section 27A of the Securities Act of 1933, as amended, and Section 21E of the Securities Exchange Act of 1934, as amended, and as that term is defined in the Private Securities Litigation Reform Act of 1995. BigString Corporation intends that such forward-looking statements shall be subject to the safe harbors created thereby. Since these statements involve certain risks and uncertainties and are subject to change at any time, BigString Corporation's actual results could differ materially from expected results.