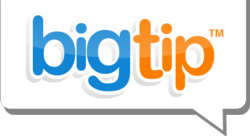 Seattle, WA (PRWEB) May 18, 2011
The daily deal just got a lot more interesting, and Groupon and LivingSocial may not be the only well-known names in the space for long. Founded by executives and technologists from pioneering Internet companies, including Yahoo! and InfoSpace, BigTip is bringing big deals to small towns, with more than 100,000 discounts offered in 6,000 markets nationwide. Impressive, especially considering the company is calling the event a "soft launch." Targeting the largely ignored suburban market, BigTip typically offers 20-40 deals in most suburban cities, with some markets featuring 100 or more. By contrast, daily deal site LivingSocial and Groupon are mostly in major metro markets – and both only offer one deal to subscribers each day.
"In this deal space, it's evident that there's virtually no barrier to entry – but tremendous barriers to scale. The sophistication of our technology breaks through these barriers," said Chris Matty, BigTip's Executive Vice President of Business Development. "We don't believe delivering a single deal a day in a major market best serves consumers or merchants. We're able to offer consumers a greater selection of more relevant deals and allow many more merchants to promote their offers. No longer will suburban markets be underserved."
Founded in 2010, BigTip is still in its infancy and it's already serving suburbia well. A random search of the site yields a wide variety of great deals. From 50 percent off 10 yoga classes in Rockville, Maryland to 2-for-1 golf in Kalamazoo, Michigan, BigTip has something for everyone. There are over 200 deals available right now in Virginia Beach, the 39th largest city in America, a market not yet reached by existing daily deal sites.
In order to bring all these deals to so many cities, BigTip works with a network of partners from traditional print media sources. "The rapidly evolving digital advertising market is threatening the local coupon magazine and the ValPak or MoneyMailer franchisee owner." Matty points out. "BigTip partners with these groups, delivering digital solutions that offer growth and breathe new life into an industry with a notoriously bleak future." As for what comes next for BigTip, Matty hinted that there would be more big news to share in the next few months. With the ability to expand to new cities at unprecedented speed, there's no telling how much money BigTip can save suburbia.
About BigTip
Founded in 2010, BigTip soft launched in May of 2011 with an impressive list of more than 100,000 local deals in approximately 6,000 individual markets. As a result of highly scalable technology developed by the BigTip team (including former Yahoo!, InfoSpace and Intelius executives), the company possesses a unique ability to target the largely ignored suburban deal market, which in total has 2.5 times the population base of urban hubs. Different from other daily deal sites, BigTip features multiple deals per day in a given city that are delivered to consumers based on what is most relevant to each user.
To learn more about BigTip, please call 206.707.9440 or e-mail PR(at)BigTip(dot)com. You can also check out the BigTip website at BigTip.com.
###