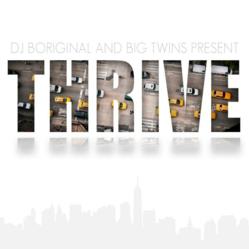 Miami, FL (PRWEB) April 05, 2013
Hip-hop artist Big Twins aka Twin of Infamous Mobb has released the "Thrive" mixtape. The 19 track project, presented by Coast 2 Coast Mixtape Promotion and hosted by DJ B. Original, is now available for download.
Big Twins was born and raised in the Queensbridge Projects in Queens, New York. After years of listening to fellow Queens natives such as Juice Crew and growing up in a place full of hip-hop history, he decided to pursue his passion for making music. His first features were on Mobb Deep records which led to him working with Infamous Mobb and The Alchemist. Since then, Big Twins and Infamous Mobb have released several street classics including "Different Worlds" and "B.I.G. T.W.I.N.S."
To date, Big Twins has released several projects, toured in both the U.S. and Europe, worked with G Unit and built a solid fan base. He will be releasing his next solo album "The Infamous QB On The Grill" in May 2013. The album with feature his trademark flow, wit and unique sound. Features include Mr. Bars, G.O.D. Part III (Infamous Mobb), Mike Delorean, Blitz and more.
Big Twins will also be releasing a double LP "The Infamous QB." The project will feature Nas, Mobb Deep, Cormega, Capone, Noreaga, Nature, Infamous Mobb, Marley Marl, 30 artists from Queensbridge and more. Keep up with all updates by visiting his website.
DJ B. Original is a native of St. Louis. His interest for hip-hop began when he was 5 years old after hearing "Rapper's Delight." As he got older, he continued to be driven by his love of spoken word and rhythms. He started DJing and what started as a hobby eventually turned to him pursuing it as a career.
After years of paying dues as a DJ, B. Original became one of the most well known DJ's in St. Louis. At this point he started to produce, working with the Midwest hip-hop collective known as Jus Us League. Shortly after, B.Original was introduced to Jason "Jay E" Epperson, producer for Nelly and the St. Lunatics, through a mutual friend. Jay E taught B.Original most of his studio techniques.
In order to expand his knowledge and skills, B.Original eventually moved to New York City and began working with the legendary DJ Chuck Chillout after joining his record pool. After honing his skills to razor sharp precision, B.Original made a move to Los Angeles. He met Prodigal Sunn from the mighty Sunz of Man/Wu-Tang Clan which led to him producing most of Prodigal's debut album "Return of the Prodigal Sunn."
Currently, B.Original DJs, produces, promotes live events, puts out mixtapes, and hosts his own weekly mixshow on 1073WKCR.com. He is now one of the most respected hip-hop DJ's on the Sunset Strip and throughout Los Angeles. Keep up with all DJ B. Original updates by visiting his Twitter.
About Coast 2 Coast Mixtapes
Coast 2 Coast Mixtapes are the most widely distributed mixtapes in the world, with over 100 million downloads/plays generated by over 200 volumes officially hosted by major artists. Coast 2 Coast has a solid reach in the new music industry with a digital magazine, DJ coalition, industry tips blog, yearly convention, and more. Coast 2 Coast Mixtapes represents a unique opportunity for artists of all urban genres, from major to indie. For more information, visit http://www.coast2coastmixtapes.com.
###