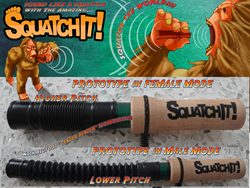 The attendance at Hopssquatch is like a who's who in the Sasquatch research world
Dallas, TX (PRWEB) June 26, 2013
SquatchIt received a warm welcome at Bigfootlunchclub.com's Hopssquatch event on Saturday, June 23, 2013. SquatchIt was introduced to the Bigfoot community by Craig Woolheater, of cryptomundo.com fame, and Guy Edwards during the event and was demonstrated for those in attendance. Those in attendance included the most well known and influential people in the Sasquatch research community.
"The Hopssquatch event was a great success and we are proud to have introduced SquatchIt for the very first time at this respected event. The attendance at Hopssquatch is like a who's who in the Sasquatch research world," says Christopher Oliver, co-creator of SquatchIt.
Craig Woolheater is the creator of CryptoMundo.com, the world's most popular and authoritative website on the subject of Sasquatch. Cryptomundo is a place to enjoy the adventures, treks, theories, and wisdom of some of the most respected leaders in the field of Cryptozoology.
Bigfoot Lunch Club was launched in 2007 to provide the latest Bigfoot news, including Bigfoot DNA, Bigfoot pictures, Bigfoot videos and to keep an overall pulse on Bigfoot in pop culture. For more information, visit their website at bigfootlunchclub.com.