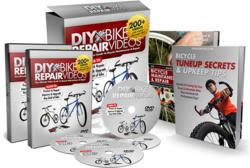 Anyone that makes a purchase receives a 60-day money back guarantee.
Seattle, WA (PRWEB) October 18, 2012
Bike repair is an essential part of owning any type of bicycle. Parts wear out naturally and accidents can happen that cause the need for repairs to be made. One professional cycling enthusiast has put his passion into helping others fix broken bicycles for an affordable price. Dave Delgado created his Bike Repair DIY course as an online video streaming course and accompanying PDF e-book to teach bike repairs at home. This course is one of the first of its kind to be offered virtually and for an affordable price. The course can be accessed here at this link.
Professionals that ride bikes for a living know the importance of having access to a qualified bike repairman. For beginners and those with less experience, finding someone qualified can be an expensive venture in almost any city in the U.S. Large cities like Seattle, Miami, New York and San Francisco have the highest paid repair workers in the cycling industry. This can often translate into higher than average costs to fix even the simplest of repairs.
The Bike Repair DIY course was created for beginners and advanced bike riders to use. This course provides an in-depth look into the mechanics of a bike and what to do to fix the most common and less common repairs. Proper gearing, alignment, chain repair and brake calibration are all included in this course. The advanced section teaches customization techniques that are usually not available outside of high scale bike repair shops.
The ability to repair bicycles of any type is a learned skill that average people can learn. Unlike high technology repairs, bicycles generally use common parts that are simple to understand. Knowing how these parts function and what can be done to fix or correct a problem is usually knowledge that professional repairmen do not give away freely. The Bike Repair DIY course is one of the first of its kind to be entirely available online for download.
One unique feature about the Bike Repair DIY course is that anyone that makes a purchase receives a 60-day money back guarantee. Dave Delgado himself underwrites this guarantee if someone is not satisfied with his training materials.
About Bike Repair DIY
Dave Delgado crated the Bike Repair DIY course after years of frustration of fixing his own bikes. As a semi-professional cyclist, Dave knows of the need for reliable bicycle repair first hand. The video training and PDF e-books that are included in the Bike Repair DIY course are written by Dave and include all of his knowledge of repairs and maintenance. The need to take a bicycle to repair shop is not necessary after reviewing and learning from the training. This course is written for amateur bike riders that want to perform their own repairs at home.