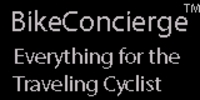 Plus 3 Network offers a really unique way to combine fitness and fundraising for charitable causes
Campbell, California (PRWEB) July 29, 2009
BikeConcierge, a premium service bike charter service, has partnered with Plus 3 Network to encourage cyclists to maintain their fitness and enjoy some great cycling while visiting Silicon Valley.
"Plus 3 Network offers a really unique way to combine fitness and fundraising for charitable causes," said BikeConcierge creator and CEO Karl Etzel. "We're very excited to pair it with the cycling that our clients are already doing to raise money for worthy causes."
Traditionally, exercise-related fundraising organizations place the burden on individuals to find sponsors for a given charity. Plus 3 Network serves a unique purpose by acquiring corporate sponsors and charitable organizations that are focused on personal health and exercise. With the sponsors and charities signed up in Plus 3 Network, the individual simply picks a corporate sponsor and charity and focuses on their exercising goals to raise money.
"One goal of Plus 3 Network is keeping people motivated to exercise anywhere, anytime." said CEO Rick Sutton. "BikeConcierge is tailored to travelers, making cycling easily accessible for anyone visiting the Bay Area. With all the attention paid to corporate wellness programs, it's an especially interesting service for business travelers."
BikeConcierge delivers high-performance road bikes to hotels all across Silicon Valley. Plus 3 Network is used to find and follow routes for the traveler who may be unfamiliar with the area, share activities with friends and family back home, and all the while raise money for charity.
Further details are available at BikeConcierge and at Plus 3 Network.
About BikeConcierge:
BikeConcierge is a service of Silicon Valley Cycling Center (SVCC), a premium bike studio in Campbell, California catering to the discerning cyclist. As a studio focused on bike fitting and custom pro-builds, they offer products from premium brands such as Look, Lynskey, Cyfac, Zipp, Reynolds, SRM, and PowerTap.
About Plus 3 Network:
Plus 3 Network is a free on-line social network that connects individuals to corporate sponsors and causes aimed at enhancing personal fitness. Founded in 2007, Plus 3 Network continues to expand their services to all varieties of exercise that promotes a healthy lifestyle.
###