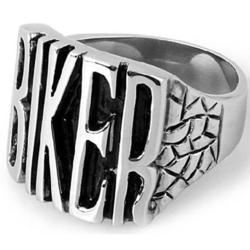 Known as one of the premier sellers of men's biker rings, shoppers find a lot more than the best selection of jewelry at JustMensRings.com.
Jensen Beach, FL (PRWEB) February 07, 2012
As a leading online retailer specializing in men's fashion rings, designer rings and wedding jewelry, JustMensRings.com is pleased to introduce a fantastic line of men's biker rings that will bring out the "tough guy" in every man. According to the retailer, not all of the men's biker rings they sell are purchased for a motorcyclist; many are for men who appreciate the edgy and masculine look of a sterling silver skull ring or a ruggedness of a bike chain ring's design.
Many of the designs featured in JMR's Men's Biker Rings section include traditional chunky skull rings, iron crosses and antiqued scroll designs. However, this retailer is not known for sticking with the "status quo." JustMensRings.com also offers several modern interpretations of the biker ring, such as black titanium rings with inlaid cables, hefty spinner rings with bronze toned biker chains and a stainless steel 6-band spinner ring, to name a few. These handsome creations are just a sampling of what is available at JustMensRings.com, as this ecommerce site offers rings for men in every style, metal and price range.
Known as one of the premier sellers of men's biker rings, shoppers find a lot more than the best selection of jewelry at JustMensRings.com. Excellent customer service and unbeatable prices have helped JMR carve out a niche within the men's jewelry industry, particularly among female shoppers who want to find a "perfect gift" for that special man. Unlike many of the other men's rings purchased as gifts, men's biker rings are typically made from less expensive metals. Most of the rings for sale in this section are priced under $50, with a few available for as little as $17.95.
In addition to being well-known for their incredible selection and low everyday prices, JMR is has earned a reputation for selling top quality men's fashion rings and wedding rings in a variety of metals. A few of the alternative metals, such as titanium and stainless steel, are now a part of men's biker ring collections as well. Now, in addition to the traditional antiqued silver skull rings and other biker styles, designers are pairing titanium with cappuccino-colored spinner bands, black cables and bronze chains.
After only six years, JustMensRings.com has grown its customer base in the United States and around the world. Their loyal and satisfied customers have been spreading the word to wedding consultants, resulting in unanticipated publicity for the retailer. Whether shopping for men's wedding bands, men's biker rings, or just looking for a sentimental gift, JustMensRings.com has become the premiere destination for great prices, selection and customer service. In addition to the rugged alternative metals used in biker rings, JMR also sells an attractive variety of tungsten, cobalt chrome, palladium, gold and platinum rings.
About JustMensRings:
As an Internet-only retailer, JustMensRings.com is dedicated to providing a simple and secure online shopping experience. This is one site where customers know they are getting the best possible prices on an extraordinary selection of men's rings. JMR's customers have come to expect high standards of service, selection and quality when they shop at JustMensRings.com. In fact, Just Men's Rings (http://www.JustMensRings.com) now offers the largest selection of men's fashion rings on the Internet, and they are the only store in the U.S. that offers men's large size rings through size 20. They also lead their competitors with an unparalleled assortment of unique and alternative men's wedding rings, and JMR is known for their very low prices on men's gold rings. Despite the recent rise in gold prices, JMR keeps their prices low and affordable, and shoppers won't find better prices on gold, silver, tungsten, titanium and other popular metals.
###