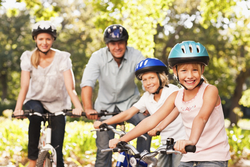 ". . .even hardened athletes are turning to rentals. . ."
Chicago, IL (PRWEB) June 16, 2010
Cycling is widely credited with health benefits, environmental protection and a fun, efficient means of transportation. Summer is the perfect time to activate these benefits at home or away and rekindle the joy on two wheels by renting a bike.
Whether you're testing out a new bike to replace your well worn rig or simply rediscovering cycling, rentals offer a great opportunity to try before you buy. And if you rent before heading out for Summer vacation, you add an exciting way to explore your destination.
While basic functionality of a typical bike has remained the same since the late 1800's, subtle and not so subtle differences in design, materials and intended use have produced bike types that seemingly share little in common. Whether it's a mountain bike, road bike or beloved beach cruiser, the wide variety of types is only matched by the broad range in prices. Purchase prices can span from a few hundred dollars to many thousand. Fortunately rental prices are more easily managed and offer a full day of freedom to explore for $25 to $80 with an average rental rate of about $40 per day.
A key question before any bike ride is where to ride – especially if you're away from home. Thanks to a variety of mapping websites such as MapMyRide.com, TrailLink.com and Google maps, a great deal of route information is readily available online.
Bike rental reservation service RentaBikeNow.com has helped formalize the bike rental process by managing online bike rental reservations for almost 300 bike shops across the US and Canada. The website features thousands of available bikes at participating shops and accepts reservations with a small deposit. While shops provide the bikes and set prices, RentaBikeNow.com enables 24/7 flexibility to compare bike brands, styles, etc. and place reservations for the exact bike of your choice, and features a variety of useful mapping tools to find the closest shop and best places to ride.
"The typical rental customer is no longer typical," reports RentaBikeNow.com President George Gill. "With most airlines requiring a king's ransom to transport a bike, even hardened athletes are turning to rentals as an easy way to participate in more cycling events," he added. As testament to the broad appeal of cycling, participants can range from a kid - to Lance - to a senior citizen out for a leisurely ride.
So the family has rented bikes and you have a handy map to explore the area. Now all you need is a backup plan in case your ride gets derailed by a flat tire. Fear not, because online reservations for a full day or more through RentaBikeNow.com even include free bicycle roadside assistance, which provides transportation for bike and rider up to 30 miles back to their home, hotel or bike rental shop.
Summer is here and your next cycling adventure is only a few clicks away.
RentaBikeNow.com is a division of Go. Play. Everywhere., an Iowa LLC with primary offices in the Chicago area (Northfield, IL) and Louisville, KY.
###