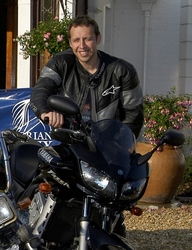 Motorcyclists are particularly liable to evade road tax
(Vocus) February 18, 2008
When specialist motorcycle insurer Bikesure criticised government claims that 38% of bikers were breaking the law by evading road tax, the Department for Transport (DfT) remained silent on the matter. Now the DfT's has released new figures that appear to back Bikesure's claims.
Bikesure, one of the biggest insurers of biking enthusiasts in the UK, said that the DfT's original figures were flawed and misrepresented the biking community. They led to vitriolic comments attacking the biking community from Edward Leigh MP, which were widely reported in the media. "Motorcyclists are particularly liable to evade road tax", he claimed. "Nearly 40% of motorcycles are now unlicensed…large parts of the biking community are cocking a snook at the law".
Bikesure claimed that there were major flaws in the Department for Transport 's logic and statistics. When they approached the DfT for clarification, the Department remained silent.
"The survey methodology was mistaken, and it was compounded by basic errors," said Robert Balls of Bikesure. "We wonder if simple prejudice against bikers led to the wrong conclusions being drawn."
DfT admits mistakes - but still no apology - and the figures are still suspect
In an update to the figures, issued on 14th February, the DfT admitted that "evasion estimates for 2007 are not directly comparable with those from previous years", and added, "Misread registration marks…tend to inflate estimates of evasion."
Their statement adds up to a breathtaking conclusion - the evasion estimates reported last year for motorcycles were probably overestimated by staggering 300%. Put another way, the headline 38% evasion figure reported last year, and repeated last month by MP Edward Leigh, were roughly four times higher than they should have been.
So, rather than nearly 40%, the figure the DfT quotes now is 9.8%.
But Bikesure still isn't satisfied. Robert Balls explains: "First the sample size is very small - that makes the error margin over 50%, so (even taking nothing else into account) the figures for bikers could be as low as 4.7%. Second, for collecting the data on motorcycles they didn't use Automatic Number Plate Recognition (ANPR) cameras (as they did for cars), but instead relied on contractors standing by the side of the road with a clipboard. Inevitably these guys are going to write down the wrong number more often than an ANPR computer, since the computer doesn't have to deal with the effects of a high speed movement."
Robert Balls concludes: "The original ridiculously high figure of 38% should have made the MPs use their common sense instead of taking statistics at face value. Even ignoring the fact that the current figures look dodgy too, we think at the very least the MPs owes bikers in general an apology.
"And there ought to be an admission from the statisticians that they managed to cock up the figures so spectacularly. Next time they do a survey maybe they should talk to a few bikers, or at least people who know bikers."
Copy ends
Press Enquiries:
Toni Turner or Alison Haynes at The Publicity Works
Tel: 01263 761000 Email: bikesure @ publicityworks.biz
Robert Balls at Bikesure Insurance: 08700 771377
Press information, digital files, photos etc., available on request from bikesure @ publicityworks.biz
Notes for editors:
For more background information on the stats check out the Bikesure blog entries on the Bikesure website via http://www.bikesure.co.uk
BBC News report on Edward Leigh's statement:
http://news.bbc.co.uk/1/hi/uk_politics/7200066.stm
Bikesure's insurance for the motorcycle enthusiast, including cheaper bike insurance schemes for performance and custom bikes, scooters, trikes, quads and bug riders. The company is a specialist in insuring unusual, modified and enthusiasts' bikes, and is one of the most respected names in UK motorcycle insurance.
Bikesure's quote line can be contacted on 0800 089 2000, by calling 'bikesure' on Skype, by email at bikesure @ adrianflux.co.uk or visit http://www.bikesure.co.uk.
# # #