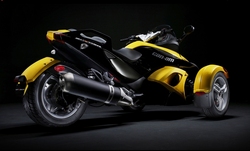 We insure all sorts of trikes, including high value, high performance models, so the Spyder won't be a problem
(Vocus) June 23, 2008
The new Can-Am Spyder trike is stunning to look at and fun to drive. Its two front wheels and 'Y' architecture reflect its snow mobile pedigree and it's hyped as a totally new driving experience, combining the exhilaration of a motorbike with the peace of mind of a sports car. The safety angle is underlined by features like anti-lock brakes, traction control and stability control systems. But despite the emphasis on safety there's no getting away from the fact that the Spyder is an off-the-wall vehicle - and it's not going to be easy to insure.
Now trike insurance specialist Bikesure has confirmed that it will be covering the new Spyder. "We insure all sorts of trikes, including high value, high performance models, so the Spyder won't be a problem," confirms Robert Balls of Bikesure.
"The extra safety features may not appeal to hardcore riders but they certainly helped us in evaluating the Spyder as an insurance risk. And to be fair, our guys who went to the UK launch say it's a real blast to ride," he adds.
The Spyder's 990cc V Twin engine develops 106bhp at 8,500rpm, has a claimed top speed of 120mph, with a 0-60 of 4.5 seconds, and costs around £12,000. Bikesure says insuring the trike will cost from around £190 for a 30 year old male with a clean licence and maximum no claims.
"Considering the type of vehicle it is, the Spyder's price doesn't seem unreasonable," says Robert Balls. "Our policy means the cost to insure it will be very competitive."
For more information on the Spyder visit http://www.brp.com
Bikesure is 100% British owned and based. It has a huge range of specialist policies for the motorcycle enthusiast, including cheap bike insurance schemes for performance and custom bikes, scooters, trikes, quads and bug riders. For details freephone the Bikesure quote line on 0800 089 2000, email the company at bikesure(at)adrianflux.co.uk or visit http://www.bikesure.co.uk
Press Enquiries:
Toni Turner or Alison Haynes at The Publicity Works
Tel: 01263 761000
Email: bikesure(at)publicityworks.biz
Robert Balls at Bikesure Insurance:
08700 771377
Press information, digital files, photos etc., available on request from bikesure(at)publicityworks.biz
Note for editors: Insurance quote assumes the vehicle is garaged, has suitable security (including a Sold Secure lock); £350 excess; insured only to drive; limited mileage (3,000 miles per year).
###